Independent mobile ad platform company Millennial Media released its most recent Mobile Mix report today, which states that while 65% of the region's population owns a mobile phone, only 23% own a smartphone.
Technology, telecommunications, and consumer goods are the top three brand verticals for mobile advertising that see the highest consumer engagement.
Furthermore, whilst India and China have lower smartphone adoption than other regions, they continue to drive higher number of mobile and smartphone users because of their large populations.
Android is also the leading operating system in the region. It is accounting for 71% of total impressions from Asia Pacific with Malaysia (75%),  Hong Kong (81%) and India (86%) seeing an above average number of impressions from Android devices.  The market diversity of the region can be seen with some other countries such as Japan, Australia, and Thailand, where there is an above-average number of impressions from Apple's iOS, which sits at 28%.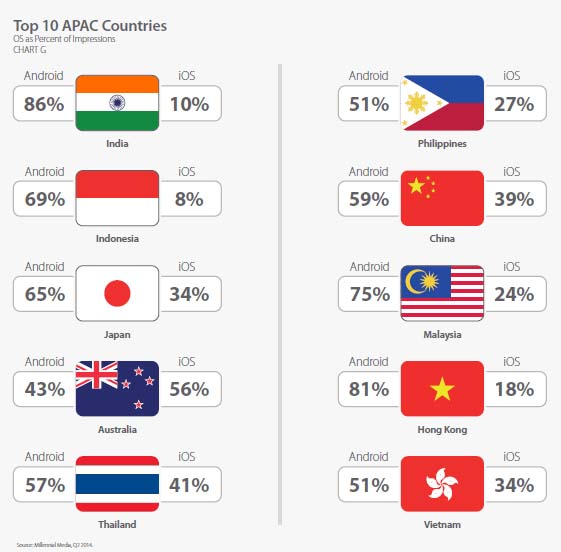 Other countries such as Indonesia and the Philippines see below-average impressions from both Android and iOS but instead, show almost nine times more impressions from Blackberry devices than their neighbouring countries.
Other findings of the Mobile Mix Asia-Pacific Report include:
The top three countries with the highest number of impressions on Millennial Media's platform were India (15%), Indonesia (14.87%), and Japan (11.62%)
Based on impressions on the platform, Samsung (39.62%), Apple (26.41%), and Nokia (3.48%) were the top three manufacturers
Top application categories with most impressions served and highest click-through rates on our platform were Games, Entertainment, Lifestyle, Personalization, and Productivity & Entertainment
For brands and advertisers, considering the burgeoning number of consumers in the region, the report reveals that there are indeed huge opportunities for them to reach greater numbers of their target audience. Notably, technology, telecommunications, and consumer goods are the top three of many brand verticals that are finding campaign success in the region.
Lastly, with the language and geographic diversity of the region, developers and publishers will also need to make a concerted effort to ensure consumers engage with their campaigns or apps in any language, currency, or on any network.
The insights were based upon Millennial Media's global platform observations across thousands of mobile ad campaigns and billions of monthly ad requests.