Microsoft unveiled a first look of the new MSN today for the Asia Pacific region. The new MSN combines premium content from the world's leading media outlets with personal productivity tools from hotel booking engines to shopping list generators.
In Malaysia, consumers will have access to content from The Malaysian Insider, The Edge and The New Straits Times, among others. The move comes following the split between Microsoft Malaysia and Rev Asia where the latter has decided not to renew its exclusive partnership with Microsoft to produce MSN Malaysia.
Rev Asia has exclusively operated and developed content and delivered advertising solutions for MSN Malaysia's portal msn.com.my, Outlook.com and Skype in Malaysia.
[caption id="attachment_65097" align="aligncenter" width="700"]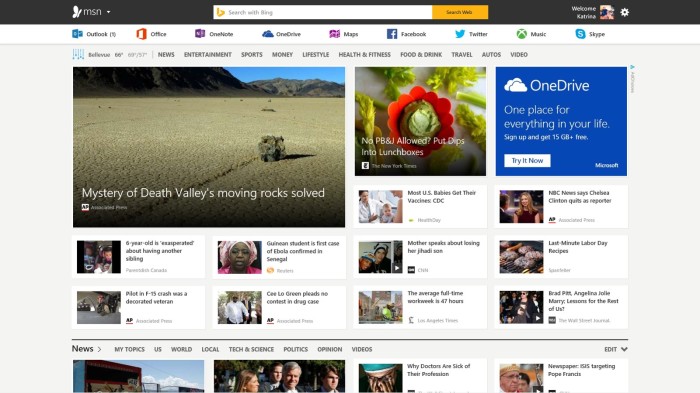 The outlook of Microsoft's new MSN[/caption]
Viewers can see the new MSN at preview.msn.com. The new design is aimed at enabling consumers to easily navigate the interface and read content most important to them. Users can choose their favorite cities for weather, sports teams, and restaurants. The new MSN also connects to popular services like Outlook.com, Facebook, Twitter, OneNote, OneDrive, Xbox Music and soon Skype.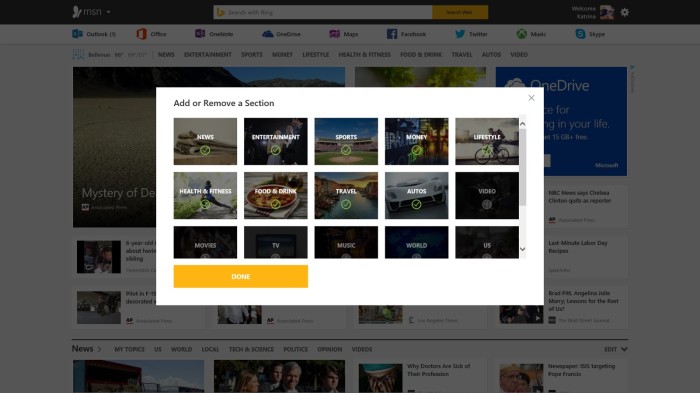 Personalizing on Microsoft's new MSN
Soon enough, this new MSN experience will also extend to mobile apps across major device platforms so consumers can easily access it via Windows, iOS and Android. And because the new MSN is designed to work across multiple devices, each user's preferences will automatically change across the web and app versions.
Adam Anger, the general manager for Asia Pacific, Microsoft Advertising said that Microsoft has "re-written MSN from the ground up for a mobile-first cloud first world." Furthermore, with the new MSN extending to mobile apps, Anger argues that the single platform, once personalized, will allow consumers to "get the same experience everywhere - on every device that works for [their lives]".
"With premium content and productivity tools, we're thrilled to offer a new experience to both advertisers and consumers," said Ken Chang, Regional Sales Director for Asia Pacific, Microsoft Advertising. "The new MSN allows advertisers to be in more moments and to capture consumers at the right mindset throughout the day."
CNN has also partnered with Microsoft on this new project. KC Estenson, general manager and senior vice president of CNN Digital, said: "We think partnering with Microsoft to distribute CNN's premium, made-for-digital news video across their platforms will put CNN in front of an even bigger audience than we have today."
Though the face of MSN has transformed, the process of buying ads remains simple. Brands can still enjoy ease of purchasing through similar IAB standard units available on previous versions of MSN.
"The transformation of MSN allows brands to be in the thick of a rich library of premium content that travels with readers throughout the day, regardless of device," said Ben Poole, Head of Interaction for Asia Pacific, MEC. "This positive brand association is a win for the industry and a win for users looking for quality content in an adaptable environment. We are incredibly excited to bring new campaigns to life on the reimagined MSN."