Malaysians gathered in a sea of yellow for the Bersih 4.0 rally in various cities across the globe leading up to Merdeka Day, which is the celebration of Malaysia's independence.
The rally was organised by the Coalition for Clean and Fair Elections (Bersih) and was supported by a coalition of the three largest opposition parties in Malaysia along with other small political parties and social organisations.
Individuals took part in the protest to show support for a more transparent and democratic government. Beginning in Kuala Lumpur, Malaysia, the rally sparked similar peaceful protests in Melbourne, Sydney and New York.
As Malaysians united in the lead-up to the country's 58th National Day to celebrate the Peninsula's independence, a memo from the Ministry of Communications and Multimedia Malaysia (MCMC) was sent to advertising agencies to omit the word "Merdeka" from their ads.
The advisory requested any words relating to independence or "Merdeka" must be changed to "Happy National Day" or "Selamat Hari Kebangsaan". Advertisers were to also refrain from mentioning the number 58 – the number of years since Malaysia's independence from British rule.
Here is the screenshot of the original email, first posted on online site Cilisos: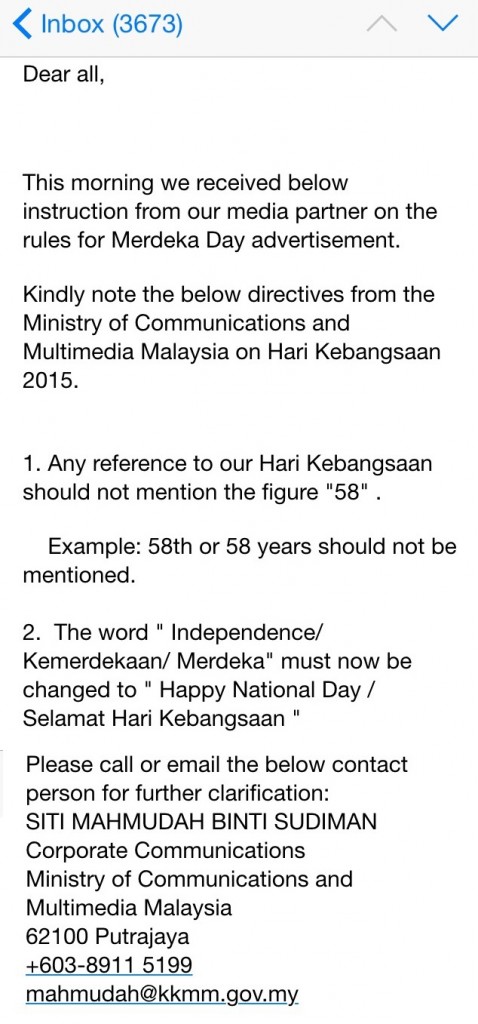 According to news site The Malay Mail Online, MCMC released a statement explaining the initiative to omit the word "Merdeka" as a means to "strengthen ties among the people, regardless if they were from the peninsula, Sabah or Sarawak because August 31, 1957 focuses on the independence of Malaya whereas September 16, 1963 is felt more by Sabah and Sarawak".
A quick check by A+M showed that most Malaysian brands that launched National Day campaigns, which celebrated all things Malaysian, created hashtags unique to their ad campaigns. However, some such as MyTeksi (or GrabTaxi) still used the banned word Merdeka.
">
Does Merdeka really mean anything?What is Merdeka? While the current sentiment in our country isn't as positive as it should be, we would like Malaysians to celebrate the little Merdekas in our lives. What are your little Merdeka moments? We'd love to hear how you celebrate them everyday. Tell us below.
Posted by MyTeksi on Friday, August 21, 2015