Bus Uncle was all the rage a few months back. He is witty, informative and very local.
In case, you didn't get the chance to have a conversation with him yet, here's what a usual conversation would look like: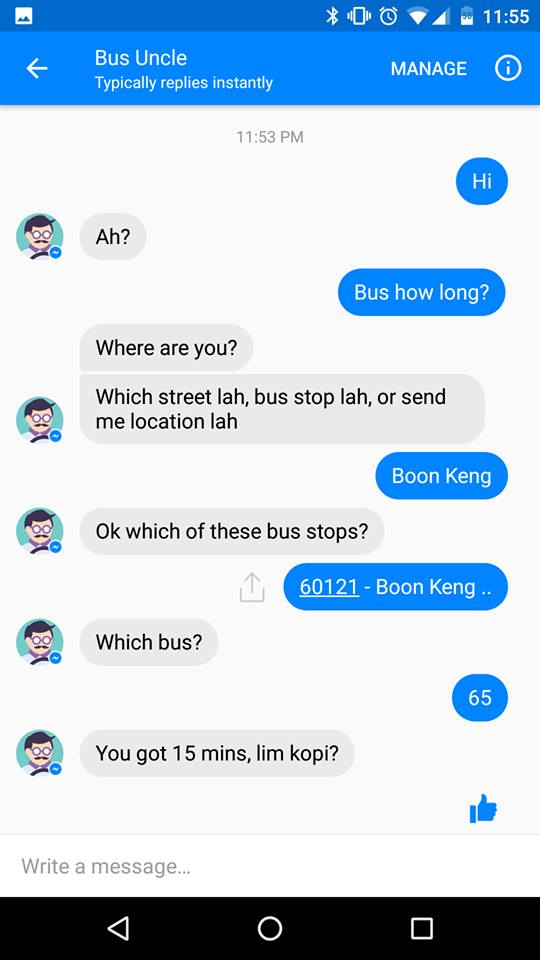 All users have to do is find @sgbusuncle on Facebook and let it unfold.
"People are talking to Bus Uncle as if he is a real human being and this is very different to how people use other bus arrival apps," said Abhilash Murthy, the 24-year-old founder and creator of Bus Uncle.
Marketing met with Murthy to talk about the journey of the localised chatbot and how this might apply to brands and marketers ahead of his involvement in the region's content marketing conference, Content 360 on 6-7 April in Singapore.
Bus Uncle was conceptualised and then released on Murthy's Facebook profile in mid October 2016.
"When I first released him, he had a decent number of likes and shares but the growth was really slow for the first few days. On the fifth day, mothership.sg featured him in an article and the likes went from 200 to 8000 in four hours. I knew that then, there were a lot of people talking to Bus Uncle and the way I built him at that time couldn't actually handle this load so it kept crashing" Murthy explained.
He has since bolstered the bot and committed to regular content updates on the Facebook page. Growth has increased to about 500-1000 likes per day according to Murthy and his popularity is increasing.
"Of all my experiments tested out with my friends, they said Bus Uncle is a really interesting character and you should focus on making him really funny," Murthy said.
Indeed, what people respond to and engage with is the character of Bus Uncle so how can brands humanise their interactions with customers properly, through chatbots? What is going wrong right now? He said:
What makes a good chatbot is if it is able to process the messages of a user in a non linear, random way.
"A chatbot shouldn't tell the user you have to enter this first but should just tell the user what are they looking for, it's called random access navigation," Murthy argued.
"The problem with a lot of chatbots is they take you through a very rigid user flow. I don't see how this is different from a website or an app as they are also very linear."
Marketing: But is this feasible?
Murthy says yes.
"We're at a time of technology and natural language processing where this is actually entirely possible but a lot of companies don't leverage on it," Murthy said.
"For me, it wasn't a difficult challenge, it's achievable. Bus Uncle is built on a natural language processing engine using both Singlish and English. As a developer you have the ability to map these languages to the same intention."
Marketing: So what potential does this offer brands?
"The data is really personal and you get a lot more customised information from every conversation. It's a lot more powerful if you want to do targeted advertising," Murthy underlined.
Murthy says companies can measure how engaged a user is with their chatbot including how fast the response time is and the length of conversations.
"It offers unique information which goes deeper than a page view or a click. This kind of data is really strong to show how the company is doing against competition," he said.
But to get hold of this personal data brands must tread carefully.
"The biggest advice I can give is the content you deliver must be personal and customised. Companies shouldn't push out generic advertising through Facebook Messenger. If people receive spam they will delete the message entirely and once someone has deleted a conversation, companies can't get them back," Murthy advised.
Companies should leverage on the data that they get from their initial conversations to get an idea of how the user is and what the user likes and how the user thinks, then it will survive.
Brands starting out on the chatbot path are met with a few options and since Whatsapp allowed it in 2015 and Facebook Messenger in April last year the choice is to build one on your website or take traffic to a popular messaging app.
"Brands shouldn't be creating their own message platform on their website. They should rely on the other platforms such as Facebook messenger, Whatsapp, LINE," Murthy said.
The majority of people have messaging apps and use these apps to communicate all time. Companies can definitely leverage of this familiarity rather than asking users to learn their new platform."
Marketing: Are there any downsides to this?
"One thing is companies don't get as much customisation, they have to fit with the platform. But people building these messaging apps are constantly putting in new features and are giving companies more options to reach customers.
While Bus Uncle is hyper-localised and built entirely for the Singapore market, which is part of its charm, Murthy said there is potential for further growth.
"People in Indonesia, Australia, Africa have told me that they really enjoy Bus Uncle and they really see the value of making it hyper-local," he said.
"Bus Uncle itself won't go outside of Singapore but the experiences that I've had will contribute to helping other companies in other areas make their content and bots more localised."
Murthy shared he is experimenting with the next stages of Bus Uncle but couldn't give many details at this stage.
"One thing I can say is Bus Uncle is going to have a lot more partnerships and be integrated across a lot more different services this year. I am going to ensure the users are constantly engaged in the process."
Bus Uncle is a really good representation of cultural Singapore and a lot of brands and content writers have content related to cultural Singapore. I hope to integrate with these brands and deliver their content through Bus Uncle.
To hear more about the potential of chatbots and new methods of engaging customers with content join Murthy and other marketing experts at the Content 360 conference on 6-7 April. For more details please contact: Czarina Solomon, on +65 8112 6351 / +65 6423 0329 or at czarinas@marketing-interactive.com