In June this year, Jimmy Lim took on the task of leading the PHD Malaysia office. Lim has had more than two decades of experience in media, advertising and marketing across the markets of Malaysia and Singapore.
Advertising + Marketing finds out how Lim is settling into his new role.
Describe your management style?
I always believe great leaders are born, but anyone with a strong will and determination can aspire to be like any iconic leader. Anyone can do so by learning and adapting it into their own style. Even if we never reach the pinnacle of these icons, at least we can reach as far as our own ability can take us.
I will attribute my management style to Sir Alex Ferguson. As much as I hate Man U because I am a lifelong Liverpool fan, I have to give credit where it's due. One of the best things I have learned from his style is his change management ability – which is the key reason why he was able to steer Man U successfully for 26 years. United's over two decades of success was built on Ferguson's ability to overhaul and rebuild trophy winning teams on numerous occasions.
Change is the new normal for leadership success and I am constantly pushing myself to be sensitive to the changes around me, and responding strategically to such changes by modulating our people and products accordingly to survive and win the competition.
What was your career path like?

I started in a creative agency as an AE and grew to an account director with Peter Beaumont Malaysia before moving to Saatchi & Saatchi Singapore. I stayed in Singapore for 14 years working with various agencies such as Leo Burnett, Mindshare and Dentsu Aegis.
I took a couple of years off and operated as a business consultant for various local agencies in Singapore – helping the agency owners to up their game so to speak. In that time, I have also nurtured two new start-ups which brought much success to the owners. I have learnt a lot about change management from those consultancy years, as running a business and managing a business are two different games altogether.
What was your first job?
I was a store clerk at 7-Eleven during my school holidays, mostly doing the graveyard shift. I have great admiration for the 7-Eleven folk as they have to do everything – from handling the cash register, cleaning, stacking the storeroom and general maintenance, as if you were running your own store.
On top of that, you have to serve customers with a smile. I learned a lot about service with an attitude – servitude. There were little things my store supervisor taught which meant a lot in customer service – like how you should place change in your customers' hands instead of placing it on the counter.
Whenever I walk into a 7-Eleven store these days, I observe how the store clerks don't even greet or look at the customer. To many it's just a job, but to my then supervisor it was the passion in serving which made him want to get out of bed every day. It doesn't matter if you are a CEO or a store clerk, you must do everything with passion and commitment.
Who was the mentor who most influenced you and why?
I am not as lucky as others who have had a mentor throughout their careers.
But in every job I have had, there were various people who taught me a lot. The best I have learned from were the owners of Peter Beaumont, which despite being a local agency, became the largest agency in Malaysia before they were acquired by Grey. I witnessed and learned entrepreneurship at its best during my years there. Which is why I say running a business and managing a business are two different games.
What is the proudest moment in your career?
I had to pitch for a small tourism account, but we were so stretched at that time, we couldn't even afford to spare creative resources to work on the pitch. But as we had committed to the pitch in partnership with a media agency, I decided to reframe the way we pitched.
I decided not to present any visuals on the premise the client would still have to stick to the global creative template. I had to nullify the other agencies which I expected to demonstrate how the ads would look like. I went into the pitch on a higher ground by telling the client about the birds and the bees – basically about life in general and what a holiday would mean to the target audience.
Given there were other bigger tourism boards with bigger budgets, they could not afford what the others were doing. I asked the client to reframe their approach. All I had was a picture of a busy section of the CBD with scores of busy PMEBs rushing around. I told the client that if cars had speed humps to slow them down, why couldn't we install speed humps on pedestrian walkways asking busy executives to slow down (and take a holiday at this destination).
We won the account.
Your biggest blunder in your career?
We all should learn from our mistakes to improve. One of my biggest blunders was on an email (when email was starting to become the choice communication tool) to a client. It was one of those long email threads which went back and forth to update the status of an ongoing project.
I am sure many will recognise the typical "my reply in (colour)" response. What started as an innocent reply to the client, I made the most important point in red and all caps. Due to the urgency of the matter, I wanted to ensure the client understood the repercussions if the client didn't respond by the deadline.
Lo and behold, I was hauled up by the senior client who was copied in and was reprimanded because apparently I was rude and disrespectful to the marketing executive, by virtue of the fact my reply was written in red and all caps font.
Even though I didn't mean it to be so, I realised it is important to look at the perspective of the email recipient as well. It is an essential communications skill. That was email etiquette 101 learned the hard way. After that incident, I never used red and all caps in my emails.
When you're not working, what would you be doing?

In the past I used to be a very active football player on the weekends. Nowadays it's all family and friends when I am not working. We love to entertain family and friends on weekends because we can't never spend enough time with the people whom we treasure so much. Just doing that gives me more joy and satisfaction than weekend golf.
I believe such social activities re-energise me for the week ahead. There is a lot we can learn about life when you interact with family members and friends who are working in various industries. They can provide useful insights for my work, since we deal with clients from different industries.
My own personal time will be spent in the gym and reading. I am a firm believer you can never stop learning and reading is a great way to constantly learn new things. My wife thinks I am obsessed with reading. I can consume any damn thing … books, magazines, newspapers, websites, TED videos. Even when I am in the gym, I would listen to audio books, podcasts or stream TED Talks.
[gallery link="file" ids="71750,71749"]
Harshest thing said to you in your career?
I was told I would be promoted to regional account director after being in the agency for less than a year, but my CEO later changed his mind when it was found out that some of my peers who were older and served the agency longer than me, were unhappy they were overlooked.
I protested that since I had proven my worth to the company, the promotion shouldn't be decided by others. After all, they had to prove themselves as well. But I guessed the CEO was worried about the overall harmony of the company.
I thought it was unfair that what was rightfully mine should be overruled by such pettiness. My immediate supervisor told me: "Life is never fair. Deal with it." That rattled me and I did deal with it. I submitted my resignation. However, the CEO asked me to retract it and proceeded with the promotion.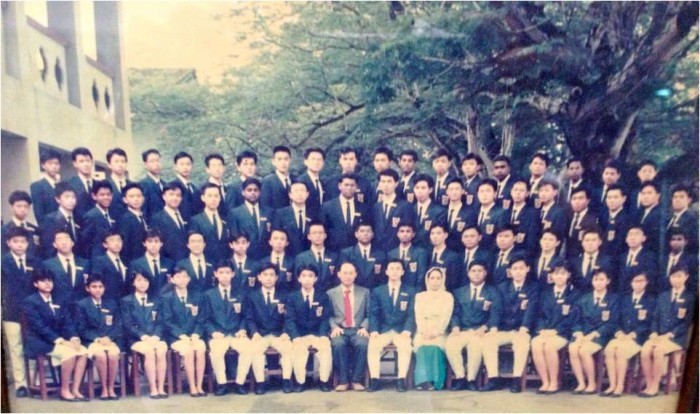 What is the craziest thing your staff has told you?
There was a presentation which we had to do for a client in which the account team felt the creative solution was off brief. However, the creative director insisted it should be presented as per. My mantra is there are many ways to skin a cat.
I played along with my account team and ensured it would be presented as per the creative director's direction. However, I called the client and told him we felt we were wasting his time if we showed up at all. I asked for his faith in my team to rectify the situation and to play along with my strategy. He agreed to sing the same tune and thanked me for my honesty.
So on the day of the presentation, the entire account team left the office with the visuals, but camped at a nearby Starbucks for a couple of hours to give the impression we were in a presentation. We returned to the office later and submitted a new brief, stating the client was unhappy the creative solution was off brief. The creative director called the client to verify, but he got the same response from the client. Eventually the client got a better solution for his brief.
One of my team members said to me, "Boss, your balls very big". To which I responded, "You think?"
One thing you would say to a newbie in the industry?
Don't look for money, there isn't any when you first join. Our industry is for people with a conviction they can make a dent. I have encountered so many young new talent who would come for interviews, but have no interest in the experience and knowledge the job can bring. All they were looking for were the salary and benefits. If money was the only motivating factor, join another industry.
Having said that it's not that we can't earn a decent living. The sky is the limit for anyone to climb very fast in our industry, unlike some industries which place a premium on experience.
I dare say our industry is the best one to enter for any newbie because it provides them with a sneak preview of so many different industries. We have lost talent to clients on many occasions, as after working in a certain industry, they found their calling and decided to join the client side.
What's the toughest thing about your job?
We are in the talent management business, so the toughest thing is dealing with talent – keeping people happy and motivated. I always tell people it's like managing a professional football team – dealing with players of varying degrees of skills and egos. It's tough to keep talent performing at their optimal level consistently. There are always emotions and egos involved, so we need to be delicate and yet be tough when it's time to urge them forward.
[gallery link="file" ids="71752,71753,71747"]
One thing you hate most about advertising?
The one thing I hate the most about advertising is people who over analyse. And we have loads of such people in our industry, God bless our souls! This paralysis from over analysis is a real problem – it is so unproductive and time consuming.
I can't understand why some people are so overwhelmed with the fear of failure that ultimately they are not moving forward on any issues. If you face a mountain, no amount of thinking about it or imagining what's on the other side is going to give you complete assurance. There's only one way to have absolute clarity on what is beyond that mountain – climb it.