Having started digital agency Mitosis in 2006, CEO Benjamin Fong has since grown the agency to the size of 39.
The agency now holds clients such as F&N, Astro, UOB and more.
Fong talks about his leadership perspectives and the highs and lows of managing an independent agency.
Describe your management style?
I start by hiring smart people with good intentions – 80% of the battle is won with the right hire. We take great pain to explain why our purpose and goals are important so they can have conviction. I try my best to provide resources and information they may need to achieve their goals, and then try even harder to give them the space to do their job.
I observe and emphasise on performance, but I have to delicately balance that with the need to preserve an environment where knowledge can be exchanged freely and people can feel safe to make mistakes.
Career path
I started earning an income really young. I was repairing computers and doing freelance programming in high school and worked in sales at various different places during my teens. I spent the first three years of my post-university career programming at various start-ups before I joined a large multinational for one and a half years. Working at start-ups spoiled me as I grew accustomed to fast and agile decision making.
Thus, I left and found a tech start-up at 25. We invented a Bluetooth Proximity Marketing device – but none of us was from an advertising background. We tried selling the devices to advertisers, but no one wanted to buy a device without an idea. So we started an agency and I fell in love instantly – I am being paid to create new cool things every day.
Your first job?
My first full-time job was a programmer in a start-up. After graduation, all I had wanted to do was to programme in Java and Open Source. Most companies wouldn't use what was then a new and unproven technology. I had competing offers, but they weren't using Java.
Who was the mentor who most influenced you and why?
Phil Captain, my mentor during the early days, taught me the most valuable lesson in business. He said: "To prosper, you must enrich thy neighbour." I made sure my shareholders and employees are paid first, my clients get a better return than what we earned and good suppliers profit from each transaction. Sebastien Vincent, one of our best clients, taught me the most important lesson in management – accountability only occurs when people feel safe to make mistakes.
Proudest moment in your career?
Leading my current team. I have people who are smarter, more experienced and better than me working in the agency. Each of them is highly respected in their own field.
Kim, our head of brands is an industry veteran with more than decades of experience under his belt. Vanda, our chief evangelist (who used to be our client in the past) is highly influential in social media. Ori, our ECD, is a highly decorated creative from an ATL background. Ravin, our analytic and maths genius is a prodigy from the prestigious IIT. Bayu, our head of technology, used to work for several awesome game development studios – these are the best people ever.
Your biggest blunder in your career?
Projecting myself onto others. During the early stage, I'd crafted Mitosis' compensation, culture and operation to what I had liked and wanted as an employee. I'm a highly result-oriented and analytical person, so I figured everyone would love an environment where people are judged exclusively on results alone. I learnt later that the emphasis done so bluntly can be counter-productive because it creates unnecessary fear and over-cautiousness which becomes counterproductive.
When you're not working, what would you be doing, aside from spending time with the family?
I believe everyone should elect a single purpose in life. I choose my work to be my purpose. Everything that I do is served to augment my capability at my job. I exercise regularly – twice at the gym, 30 minutes cycling daily to train my strength, stamina and endurance. Cycling at the still of dawn has a strange calming effect. I read – I try to complete two new books every month. Phil (Captain) once told me a successful CEO needs to read at least seven a month.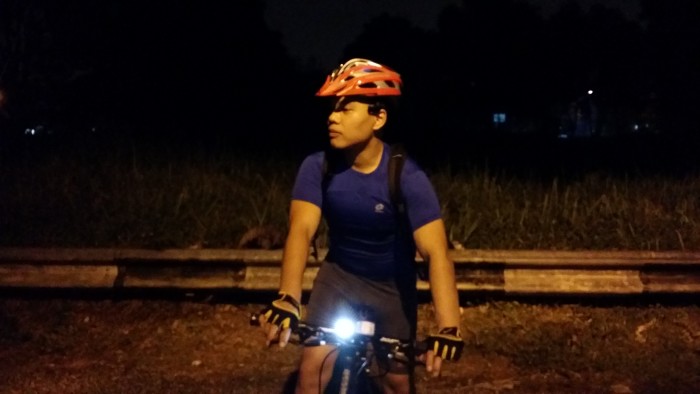 Harshest thing said to you in your career?
"Due to some clerical error, I am afraid we can't pay you." We did some work for an agency, the agency won an award for it. They claim they didn't invoice their client in time, and their financial year had ended – thus I would not be getting any payment. This was five years ago and it still hurts.
When you were a newbie in the industry, did you dream you would be CEO one day? What kind of CEO did you want to be and how closely have you stuck to it?
Reading about great historical figures while growing up instilled a deep desire for legacy and posterity in me. It's been a life-long dream to create something that will far surpass my mortality. I'd always wanted to be an entrepreneur and I am nowhere near the person I want to be. That's both a good and bad thing.
Craziest thing your staff has told you?
"Ben, it's on fire." During our early days, we hired quite a number of temps and fresh graduates. On one occasion during equipment installation, the temp somehow set the battery alight. He then threw the flaming battery at me while exclaiming: "Ben, it's on fire!"
One thing you would say to a newbie in the industry?
Never sacrifice long-term interest for short-term gains. Whatever you do, never ever jeopardise your integrity – rather lose a job than your reputation.
What's the toughest thing about your job?
We are the agents of change. Someone wise once said: "There's only two reactions towards change – either fear or excitement." Unfortunately excitement is in short supply.
One thing you hate most about advertising?
We don't regulate malpractice. I have a love-hate thing towards regulation. Regulation stifles change and creativity. But nevertheless, I love my industry and it irks me to no end when clients shrug off digital due to bad past experiences with some conniving "expert".