Last August, Nick Seckold took on the role of CEO of Mindshare Singapore as Leela Nair left the organisation.
Seckold's promotion came after spending the last three years based in Singapore working out of Mindshare's regional head quarters as head of digital, Asia Pacific.
We take a look at how the past year has been for Seckold as he closes in on the one year mark.
Describe your management style
I like to empower my team and support them to make their own decisions. I'm a big believer in giving people the space to find their own solutions rather than being dictatorial. I see mistakes as learning experiences, so long as the same mistake doesn't happen twice. I prefer working in a non-hierarchical environment where people are free to speak their mind, provided it's in the best interest of the business.
I'd like to think that I am approachable and fair but at the same time driven and focused on the task at hand. I'm also one to challenge the status quo and am always looking for ways to do things differently. The latter can sometimes ruffle a few feathers but in my view, 'healthy friction' moves the needle more quickly than always going with the flow. And it's more fun!
Tell us a little bit more on your career path and your first job

First job in Australia was in retail selling golf equipment, and then moved to Reebok as a merchandising manager before returning to a large golf retail chain as a regional commercial manager. I then moved to London in the late 90's where I took my first job in media, working in press initially, before moving to the digital team to help launch the company's first website.
After a few years I was then approached to become the MD of a small digital start up in London's West End, before moving to Mindshare UK in 2006, where I spent the next four years building their digital performance business. I then moved to Singapore in 2010 to head up digital for Mindshare across APAC before taking up my current position at CEO for Mindshare Singapore in 2013.
Who was the mentor who most influenced you and why?

It's hard to say as I have had many influences over the years but I guess if I had to name one it would be my first boss at the golf shop. He taught me the art of communication and to be able to adapt to whatever personality is in front of me.  I still look back at those experiences and appreciate the lessons I learned that are still helping me today.
What's the proudest moment in your career?
Winning the UK Government's  consolidated media business in 2009 and being promoted to my current position.
What's your biggest blunder in your career?
One of the biggest lessons I learned when I was starting out was to ensure you know exactly what you are presenting. I was presenting to my boss at the time and he stopped me mid-flow to ask what something meant on my slides. I couldn't answer him, which effectively ended the meeting.
While it was extremely embarrassing, it taught me a valuable lesson to always be prepared and fully understand what you stand up and present. It seems obvious but you'd be surprised how many people in the industry take this for granted and get caught out.  It's a tactic I use often in meetings to pass on the lesson I learned all those years ago.
When you're not working, what will you be doing?

Given I can't talk about spending time with my family, I am an avid golfer (15 handicap) but more recently have got into triathlons. I compete in most of the events here in Singapore and in June 2014 I completed my first half iron man in Cairns Australia finishing in just over six hours. While I enjoy the competition, I mostly enjoy the training both from a general health and a stress management point of view. I train about six days a week and now feel a little off centre if I miss one of my sessions. My wife thinks its become an obsession and a mid-life crisis, but I like to think of it as just a fun hobby to keep myself healthy both inside and out. 

[gallery link="file" ids="64565,64563,64567,64562"]
What was the harshest thing said to you in your career?

I was once told - "You are not ready and are a long way off". While harsh at the time, it spurred me on and made me really focus on what I wanted to do and how I was going to get there.
When you were a newbie in the industry, did you dream you would be CEO one day?

Like most people in senior positions, when I started out I never imagined I would be leading an agency one day. However I have always been comfortable leading people so I guess I always knew at some point I would be in a senior role.  Given I come from a long history in digital (15 years), I am not the typical media agency CEO but it's certainly a sign of the times and an indication of the trust placed in my ability and Mindshare's forward thinking to give me the opportunity.
That's one of the best things about working for Mindshare, despite being a market leader in many markets around the world, we never stop innovating and are always looking at 'what's next'.
What kind of CEO did you want to be and how closely have you stuck to it?
The most important quality of a CEO in my view is to be approachable, adaptable to any situation and to be able to inspire and lead a group of people to a positive outcome.  These are the values and behaviours I set out with and hopefully am delivering. Once again you may need to ask my team.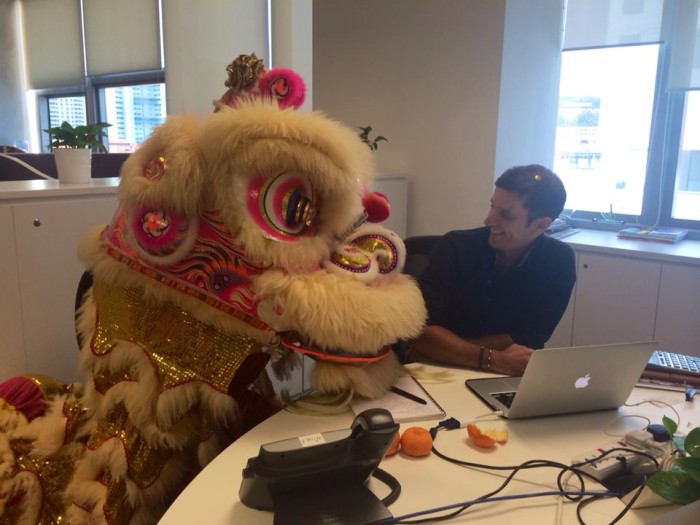 (Just another day in the office?)