Mead Johnson and Tribal Worldwide Hong Kong have launched a wholesome social media campaign and network of micro-influencers for its Platinum Formula, which has reached more than 200,000 users in three weeks.
The campaign highlights that Mead Johnson's Platinum Formula contains MFGM to support cognitive development and DHA naturally found in breastmilk. The non-GMO infant formula is also free of growth hormones. Under the theme 'less for more', the leading nutrition brand is looking to establish an emotional connection with parents – one that goes beyond product benefits.
"While it is such an important role to play, our business is about so much more than taking care of young children's nutritional needs and subsequent health," said Susanna Yip, Associate Director, Digital & eCommerce at Mead Johnson. "We also hope to become an enabler for all parents to spend more quality time with their children."
The campaign points out the similarities between raising a healthy child and growing a healthy plant, and zeroes in on the message that too much of anything is good for neither. Instead Mead Johnson advocates the benefits of a 'less for more' style of parenting. To drive the concept home, a 'Let's Grow' online platform was developed where families can plant, name and grow a digital plant together. The plant grows every time parents upload a photo of a pure parenting activity with their children, like spending time outside or eating a heathy meal together. A grown plant not only earns parents the chance to win prizes, but, most importantly the press release said, it also adds up to many pure moments spent as a family.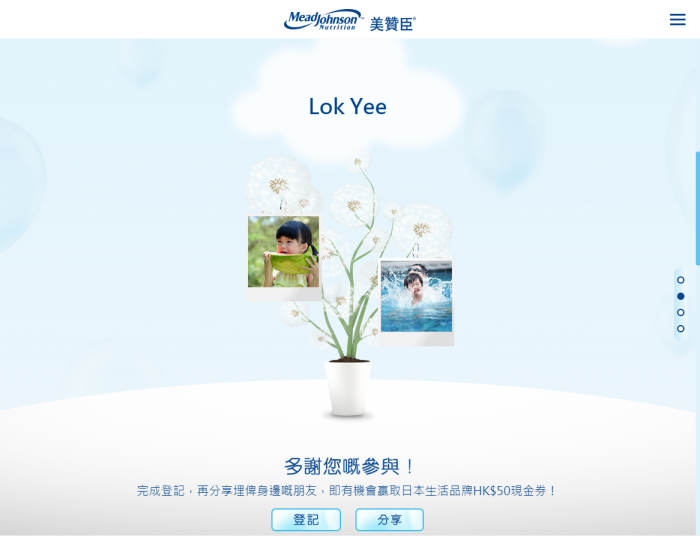 "The 'Let's Grow' digital platform lays the foundations for Mead Johnson to connect with parents on a deeper level," said Leo Tsui, head of Tribal Worldwide Hong Kong. "The concept does a great job of conveying the product benefits while creating a space for parents to enjoy quality time with their children."
The campaign site is supported by a schedule of multi-media Facebook content, including photos, videos and animations, about fostering a pure parenting style. Tribal also joined hands with more than 100 micro-influencers to boost the campaign's reach through sharing personal stories of their own childhood memories or current parenting experiences.
Credits
TRIBAL WOLRDWIDE HONG KONG
Head of Tribal: Leo Tsui
Technical & Operation Director: Bocys Lam
Project Manager: Ivy Kong
Project Executive: Nicole Lee
Interactive Developer: Amy Kong
Group Creative Director: Marco Lam
Creative Director: John Woo
Senior Art Director: Mary Pho
Senior Copywriter: Sean Leung
Copywriter: Kelvin Wong
Assistant Art Director: Eve Cheung
Director of Social: Felix Fong
Senior Account director: Koman Ko
Account executive: Jean Ng, Coco Tsang
MEAD JOHNSON
Associate Director, Digital & eCommerce: Susanna Yip
Senior Manager, Digital: Colina To
Marketing Executive, Digital: Renise Cheng