McDonald's Singapore has clarified that a verified Twitter account @McDonalds_SG is not an official account that it is handling. The move follows after the account came to attention for taking a swipe at competitor fast food brand Wendy's, which exited the market in 2015.
A quick check by Marketing found the page to have been removed.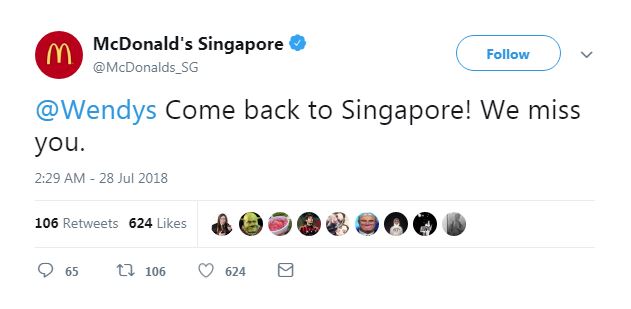 In a tweet, the account asked for Wendy's to come back to Singapore and that it is missed. This saw netizen response being a mix of praise as well as mockery for attempting to engage Wendy's at what is known for – snarky online burns. This in turn saw the account engaging with netizens with memes and insisting it was run by McDonald's in Singapore.
Needless to say, Wendy's also responded in the most snarky way by retweeting @McDonalds_SG with a sassy comeback. It's tweet garnered around 3,057 retweets and 20,239 likes at the time of writing.
When you try to DIY but realize you need to call a professional. https://t.co/e0FDH1bykg — Wendy's (@Wendys) July 28, 2018
In a statement to Marketing, a McDonald's spokesperson said that any statements and comments made by the account are not in any way affiliated with McDonald's Singapore.
"We are working with the relevant authorities to investigate this thoroughly. Meanwhile, we urge customers to refer to our official website, Facebook and Instagram pages for our latest news and updates," a spokesperson said in a statement to Marketing.
Currently, the account has a blue verified badge on Twitter, which lets users know that an account of public interest is authentic. According to Twitter's site, verified badges must be applied by Twitter, and accounts that use a badge as a part of profile photos, background photos, or in any other way that implies verified status, are subject to permanent account suspension.
When contacted by Marketing, Twitter said it is currently investigating the situation.
Accounts which are verified are those determined to be of public interest, which extends to users in music, acting, fashion, government, politics, religion, journalism, media, sports, business, and other key interest areas. Official brand accounts also tend to be verified, such as McDonald's corporate and global accounts. That being said, a verified badge does not imply an endorsement by Twitter, the website added.
The rivalry between Wendy's and McDonald's is not new in the fast food space, which may explain the interest the matter has gotten online. Just in May this year, the brand took aim at McDonald's amidst the buzz surrounding Marvel's Avenger: Infinity Wars movie by posting a picture of a dissolving Big Mac with the caption "I don't feel so good", referencing a scene in the movie.
TFW yo beef's still frozen pic.twitter.com/C0lgiNo9Ca

— Wendy's (@Wendys) May 8, 2018
It's also no stranger to online arguments with other fast food brands. In 2016, it got into a Twitter argument with Burger King which resulted in both brands trying to one up each other with promotions. Wendy's has also been known to be snarky to even consumers and customers who take aim at the brand. In January last year, the brand went viral for its exchange with a customer who disputed its brand claims that its beef is fresh.