McDonald's has been left red faced after its corporate Twitter account was found to have posted a tweet slamming USA president Donald Trump.
Here's what the tweet said, according to a screen capture by Twitter user Carrie Roberts: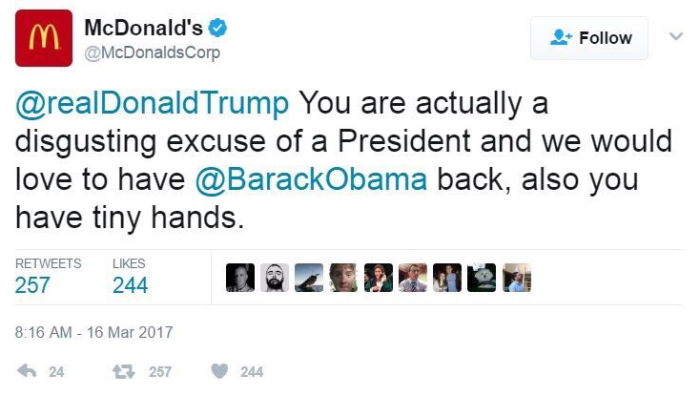 The tweet was promptly pulled down, with McDonald's issuing a statement on the same corporate Twitter account, confirming that its Twitter account was compromised and that they were looking into the matter.
Twitter notified us that our account was compromised. We deleted the tweet, secured our account and are now investigating this.

— McDonald's (@McDonaldsCorp) March 16, 2017
It later followed up with an official press statement explaining that its Twitter account was hacked by "external sources".
"We took swift action to secure it, and we apologize this tweet was sent through our corporate McDonald's account," the statement read.
But as we all know, screen captures last forever and the tweet quickly went viral. While some Twitter users were "lovin' it", some called out the fast food giant for being contradictory.
McDonalds basically said "Fuck you Donald Trump, you're killing America" as they sit back quietly while they are literally killing America. — The Irrational Fan (@Irrational_Fan) March 16, 2017
Needless to say, discussions on the possible culprit have also emerged.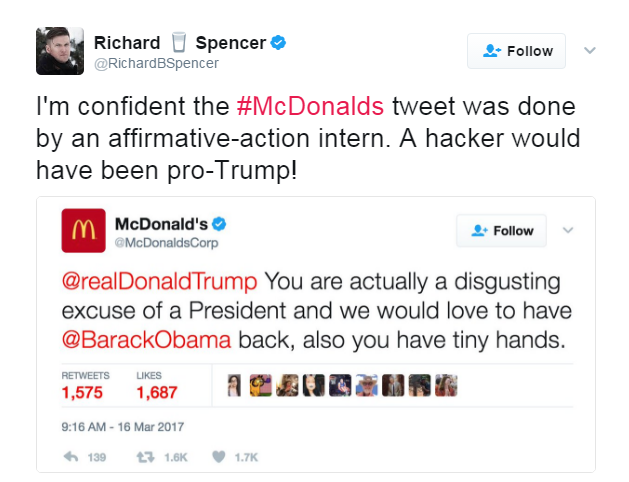 Personally, this was my favourite.
McDonald's Twitter Account Hacked, Police Release Photo of Suspected Hacker#McDonalds pic.twitter.com/PBU6NN4eM9

— Unless.... (@blackdoglurking) March 16, 2017
So do you think McDonald's can get out of this "Ba da bad bad bad" situation?