International advertising agency M&C Saatchi Sydney has launched a tactical anti-smoking campaign for QUIT, the UK charity aimed at helping smokers to quit the habit.
The integrated campaign (pictured below) incorporates cigarettes to depict hands on a clock set at 2am, the exact time when people in the UK had to reverse an hour, marking the end of daylight savings on 26 October.
[caption id="attachment_71166" align="aligncenter" width="405"]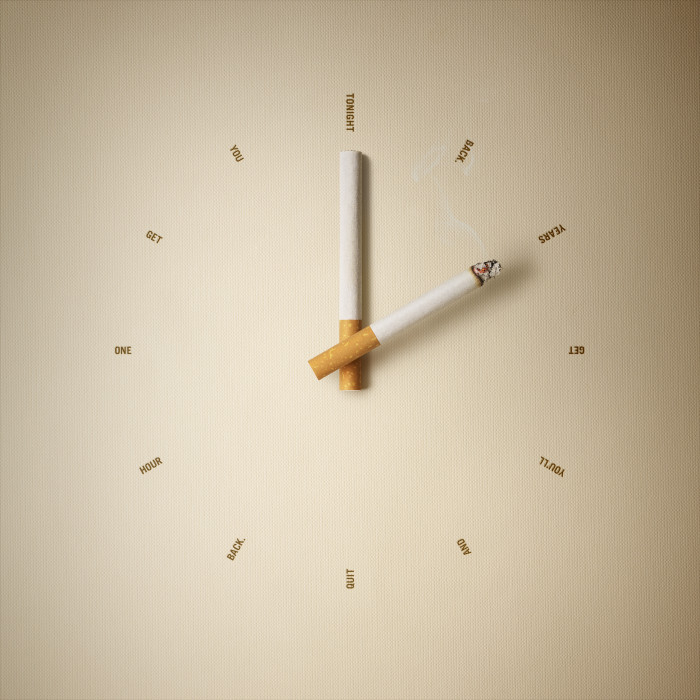 QUIT gives time back with new campaign[/caption]
These words - "Tonight you get one hour back. Quit and you'll get years back" - replace numbers on the clock face and are to be read anti-clockwise, strengthening the idea of time reversal.
A call to action then drives people to the Quit UK website, quit.org.uk, where they can type their age, when they started smoking and numbers of cigarettes smoked daily to calculate an estimate of how many years they would get back if they were to quit today.
The campaign had gone live with an extensive print rollout in Britain's mainstream newspapers along with  out of home, online and social components in the week leading up to 26 October. One highlight is the giant digital billboard in the UK's prime outdoor real estate, 'Piccadilly One' in London's Piccadilly Circus that went live from Saturday evening until the early hours of Sunday.
According to the calculator, the average 25-year-old male smoker in Britain who smokes 12 cigarettes a day and started smoking at 16 would get back five years of life if he quit today.
CEO, QUIT, Glyn McIntosh said: "Think of all the things you could do in five years. There's no time like the present to quit the deadly habit of smoking. It was a genius idea from the guys at M&C Saatchi Sydney to link quitting with the end of daylight savings. It's an event that effects everyone living in the UK, obviously including every smoker, so it's enabled us to get enormous awareness and traction."
"It's great that people can go to the website, punch in their details and get an estimated figure - the time of their life - they would get back if they were to quit smoking today. It's such a compelling, tactile way to show people the ultimate benefit of not smoking," he added.
Creative director, M&C Saatchi Sydney, Ant Melder said: "It was fun to work on a campaign that involved time travel".
"The clocks going back is always seen as something of a negative, afterall it signals the start of winter. But the reality is that everyone gets an hour back; an extra hour to sleep in, to play with your kids, to do whatever you want, It was a brutally simple thought to link that idea to the time smokers would get back to do all those things if they quit their deadly habit."