MAS Airlines has just announced the termination of its flight route to Los Angeles, United States, effective 30 April.
In a statement, MAS shared that it will invest in Asia going forward, as it believes the travel market is much larger and stronger in the region.
According to a TripAdvisor report, by 2030, Chinese urban travellers will take up 1.7 billion domestic and outbound trips per annum – nearly seven times the current expenditure of 500 million.
The report also revealed that global traffic in APAC will increase 50% in the next 20 years, with 49% of passenger traffic globally hosted within APAC or between region and the rest of the world.
Statistics provided by Tourism Malaysia said that the country will benefit significantly from the global travel trend. Last year, Malaysia saw a 22.6% increase of inbound visitors from China.
MAS group chief executive officer, Ahmad Jauhari Yahya said that the factors contributing to the negative situation of its depose of the Los Angeles route include over-capacity and competition.
"Whilst MAS has a long history in Los Angeles, the route is no longer economically viable," saisd Yahya.
Furthermore, the Malaysian government has made clear its plans to attract Chinese travellers in order to achieve its targeted two million tourist arrivals this year, in conjunction with the country's Visit Malaysia Year 2014 campaign.
For travel brands looking to reach the same consumer base as MAS or other carriers that have heavily invested within the region, here are the findings of Chinese travellers:
By August 2013, search for outbound destinations from China increased 250%
56% researched destinations within Asia
44% searched for regions outside of Asia, with Paris, Rome, London and New York topping the list
Sight seeing, relaxing and shopping are among the most popular activities of Chinese travellers, however, outdoor adventure trips have started to emerge as a trend
 The top desired destinations include the Maldives, United States, France, Australia, Greece, the United Kingdom, New Zealand and Italy.
MAS has attributed its decision to cancel the long-haul flight to the western coast of the United States to the growing middle class and increased global and intra-regional trade within Asia. In a move to secure the growing China market, the airline will increase its frequencies to key regional cities to answer the growth of demand.
The TripAdvisor's study also identified that 80% of China's middle-income and affluent consumers and potential spenders live in smaller cities outside of China's major metropolises.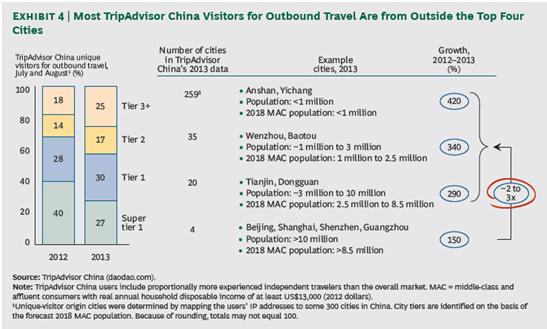 Campaigns to reel in China travellers should not be limited to heavily populated cities such as Beijing, Shanghai, Guangzhou and Shenzhen. According to data from daodao.com, 70% of visitors researching outbound trips lived outside the top four cities.
Activation in rural area of China will require adaptation and a different marketing and distribution models than that of the four-tier super cities.
Lily Cheng, managing director of TripAdvisory China, said: "China's fast-growing outbound tourism market represents significant and unprecedented opportunities for businesses around the world. Companies that deeply understand and cater to the preferences of Chinese travellers can differentiate themselves and win market share."
Cheng further adds that services and amenities that make Chinese travellers fell more welcome, such as Mandarin speaking staff, travel guide information in Chinese, photos in menus, and acceptance of international cards like China UnionPay, will stand a greater chance of attracting Chinese guests.