Tom Fishburne, founder of Marketoonist, always wanted to be a cartoonist. However, the journey to doing what he loved was a winding one. He rediscovered his love for cartoons in an unlikely place – Harvard Business School, which he understandably labels "not exactly a fever school for cartoonists".
During his time in school, Fishburne started drawing cartoons about student life, which were published every week in the student newspaper. Fishburne was sharing his story at a recent Engage Bali event organised by Socialbakers.
"I love what cartoons can do in terms of communicating ideas simply. It communicates with niche audiences in a deep and meaningful way and this got me really excited about the role of cartooning again," Fishburne said.
However, upon graduation, Fishburne deviated from cartoons once again and started working in marketing, not recognising the potential "actually being a cartoonist". This landed him in companies such as General Mills, Nestle and Method, which sells household cleaning agents.
"I decided I would start drawing cartoons about my day job, about my life. And because this was in 2002, and I didn't have a student newspaper anymore. I just set up a simple email newsletter and I emailed a few of my colleagues to tell them about it and sign up if they were interested," Fishburne explained. Within a few weeks, Fishburne garnered a few hundred subscribers, and then a few thousand. He also started publishing his work on social media when it the platform started taking off and grew his following over time.
"It became a big part of my life, communicating my day job in marketing through the world of cartoons. And I started describing what I was seeing around me, the evolution of advertising, starting with the simple salesman, going through the madmen era, and more," Fishburne said.
[gallery link="file" ids="214272,214271,214270"]
Through cartooning, Fishburne also found that his day job as marketing was about connecting with audiences, something he managed to achieve through his own cartoons.
"My own cartoons were teaching me about how not to connect with audiences than my actual job in marketing. And I got really excited and I started thinking maybe I could evolve from 'cartoons about marketing' to 'cartoons as marketing'. So I started thinking about the role of content marketing," Fishburne added.
[gallery link="file" ids="214273,214274,214275,214276"]
Eventually, brands started taking notice of Fishburne's work and reached out to find out if he could start creating cartoons for their brand. One that stood out was from The Wall Street Journal Asia, which asked him to create a cartoon book for the publication about how to get the most out of the journal.
"I thought I should be paying attention if one of the best news organisations is contacting me for storytelling. So I started thinking if cartoons could be used for something more and eight years ago I achieved my childhood dream and became a cartoonist full time," Fishburne said.
This saw him partnering with several other cartoonists and building a small studio which specialises in helping brands tell stories in this unique medium of cartoons.
Brands he worked with includes Lenovo, IBM, LinkedIn and Kronos.
While he still draws cartoons every week about marketing, the process also allowed him to pick up four lessons on what marketers can learn from cartoons when it comes to engagement and creating content.
"The best marketing doesn't feel like marketing, and this often gets forgotten even though it is so simple, and this is one thing having cartoons taught me," Fishburne added.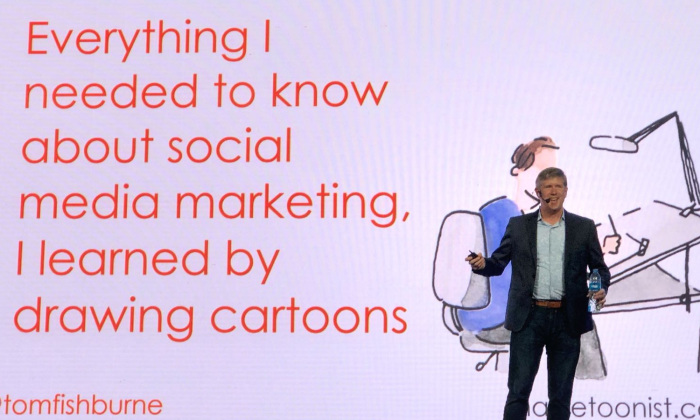 Fishburne's four takeaways from cartoons on marketing
1. Pain points are funny – When it comes to marketing, marketers often quickly jump into features, benefits and how their product is better. However, if marketers find humour with pain points, it shows empathy with the audience you are trying to reach.
"Often humour can be disarming and shows you are not laughing at customers, but laughing with them about something they are frustrated about," Fishburne explained.
2. The power of an inside joke – A lot of times marketers think about going as broad as possible when it comes to promoting their product. But they can only be so funny when the audience is aged eight to 88. However, when it comes to cartoons, the more niche, the better. This showcases the power of connecting with a niche audience.
3. Serial is more important than viral – Marketers are too focused on making something go viral, but setting expectations of having a serial output of content over time might be more effective. It allows the brand to have continuity in terms of content.
4. Step away from the microphone – Often as marketers we forget to hand the microphone over to the audience we are trying to reach. However there is power in opening up your brand to the consumer. One example was the New Yorker, which got to a point where people didn't understand their cartoons. So what they did was stage its New Yorker caption contest to get readers to come up with their own meanings to the cartoons they put out. As for Fishburne, opening a platform and forum to his readers allowed him to turn their frustrations about the marketing industry into cartoons they can relate to.
Socialbakers paid for this journalist's trip to Engage Bali 2018.