Marketing is one of the most connected job functions on LinkedIn, coming in at number four. The top most connected job function is HR, followed by product management and business development. Coming in at number five is consulting.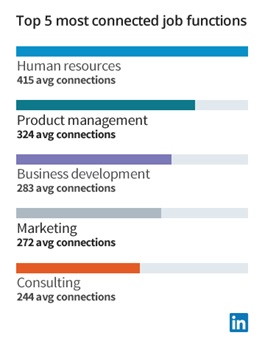 LinkedIn, the world's largest professional network, has registered more than half a billion members across 200 countries. In Asia Pacific, the membership base has reached more than 118 million, growing almost six fold since the company launched the APAC headquarters in Singapore six years ago.
India remains as LinkedIn's largest market in Asia Pacific, and second globally with more than 42 million members. In Southeast Asia, the membership base has grown to more than 22 million members up from 20 million last quarter – including Indonesia with more than 8 million members.
With over a million members, Singapore is one of the world's most connected countries on LinkedIn, ranking in third place, after United Arab Emirates and the Netherlands. Professionals in Singapore have an average of 152 connections per member. The Greater Jakarta area is ranked fourth-most connected place on LinkedIn, just after global cities – London, Amsterdam and San Francisco.
[gallery link="file" ids="173709,173707"]
"A global professional community of this size has never existed until now. It's exciting to cross such a meaningful milestone that is taking us closer to LinkedIn's vision of creating economic opportunities for every member of the global workforce by developing the world's first Economic Graph," Olivier Legrand, managing director, Asia Pacific, LinkedIn said.
"In Asia Pacific, our members are embracing the power of professional network in a big way – no matter whether they are from developing markets like India or Indonesia or developed markets such as Australia or Singapore. This has never been more relevant in this part of the world. We are eager to see more members connect to career, business and partnership opportunities on LinkedIn."