The growth of mobile and online advertising may strain Hong Kong's new free-TV channels, with four out of five marketers saying their TV budgets will remain the same in 2014.
The latest spending forecasts by the Hong Kong Advertisers Association and research group Nielsen, show that nearly half of marketers surveyed said they will fund new free TV players, but via existing TV budgets.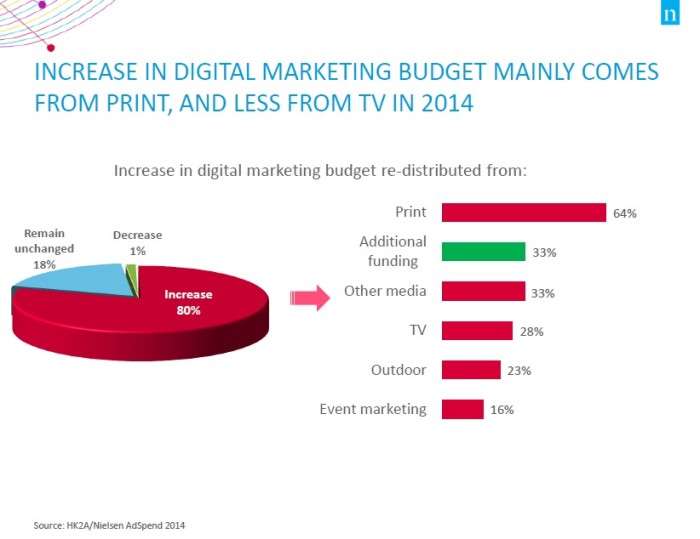 In October last year two new free TV licences were awarded to i-Cable's Fantastic TV and PCCW's HK Television Entertainment Company.
Hong Kong Television Network, backed by Ricky Wong, was rejected a TV license and is now pushing to relaunch HKTN as a mobile TV network.
Two out of five (21%) marketers said they would shift their current online and mobile budgets to new mobile TV players.
Overall, the picture for the year ahead looks good, with 82% of marketers saying they would increase their advertising budgets by 6% or more.
In terms of allocation, online advertising is a major growth area, with online display ads and social media set to grow at 8%, paid search up 3% and search engine optimisation 2%.
Social media and mobile social media continued to be considered the hottest trends in advertising (74%), followed by online video advertising (42%) and mobile apps (37%).
"Digital and online advertising is growing in importance in the marketing and media mix," said Wanda Gill, vice president, WATCH, Nielsen Hong Kong.
"While some marketers will provide additional funding to support digital marketing, the shift to digital will be more at the expense of the print media relative to other conventional advertising or marketing channels," said Gill.
However, increases in operation costs (60%) and the local economic downturn (57%) remained the top two major economic concerns among respondents.
"Marketers will need the support of advertising and media agencies to deliver optimal integrated solutions across offline and online media and they need better tools to gauge return on investment."
For traditional media, television and newspapers received the largest allocation of advertising spending, while budget allocations for magazine advertising is expected to drop from 12% to 7%.
"Marketers are positive about 2014 and ready to invest in advertising spending," Raymond Ho, chairman of HK2A, said.
"The fragmented media market and increasing media costs are challenging marketers like never before. We hope our ad spend projections will shed some light on the latest trends and best practices."