Maltesers has leveraged the Monday blues you experience at the start of every week in its latest marketing campaign.
The campaign seeks to relieve Hong Kong's white-collar workers of the feeling of 囧, the Chinese character roughly pronounced "gwing" - Cantonese slang referring to the stress you feel, and visually imitates the kind of scowl or pout you would give when you are stressed out or frustrated at work.
The idea of the campaign is to get people to stop pouting and to have fun through adverts in the form of games.
"In the pressure cooker atmosphere in Hong Kong,  everyone wants to find the moment of release from the constraints and seriousness of everyday life," Doreen Cheng, head of marketing of snack food and food at Mars Hong Kong, said.
On Mondays, Maltesers has been running print ads in magazines and free newspapers featuring a simple puzzle that asks readers to spot the difference in two graphics.  This part of the campaign will run until today.
"Puzzles can help white-collar workers ease their Monday blues," said Cheng.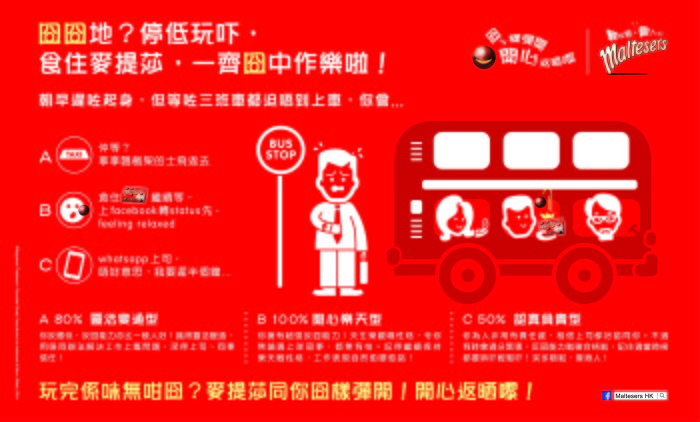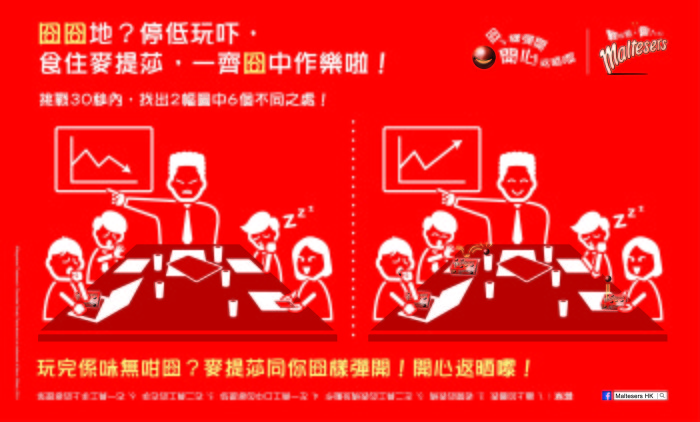 In terms of physical giveaways, Maltesers worked with a Hong Kong-style restaurant (茶餐廳) in Wan Chai to distribute 3,500 free game kits over 10 days with take-out orders of lunch or afternoon tea meals.  This was designed to surprise office workers who are forced to stay in the office for lunch because they are so busy.
Cheng said, "A Hong Kong-style restaurant has been identified as an unique touch-point to capture the time when the office workers might be pouting because they cannot leave their workplaces to enjoy the lunch or afternoon tea."
The physical game kit, packaged in a bright red apple-pie box, contains two straws, a stack of cups, ropes, a box of Maltesers and a brochure featuring a visual puzzle and four ways in which you can use the straws, cups, ropes and Maltesers box and chocolates to play games with your colleagues in the office to relieve stress.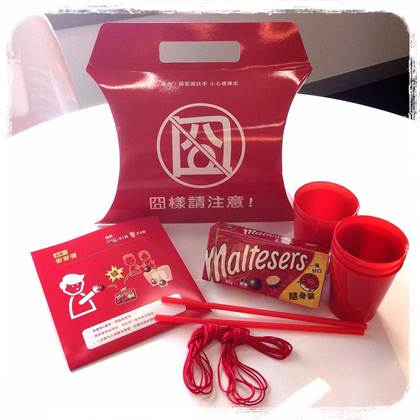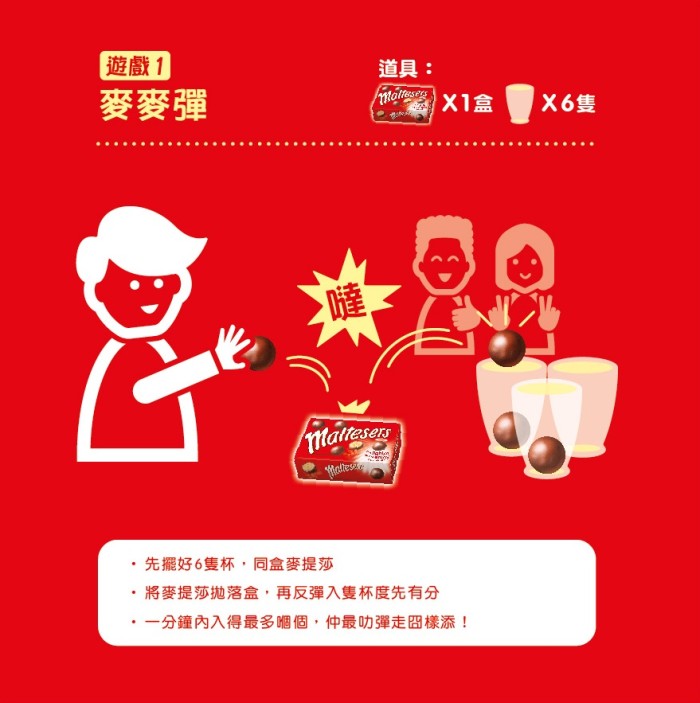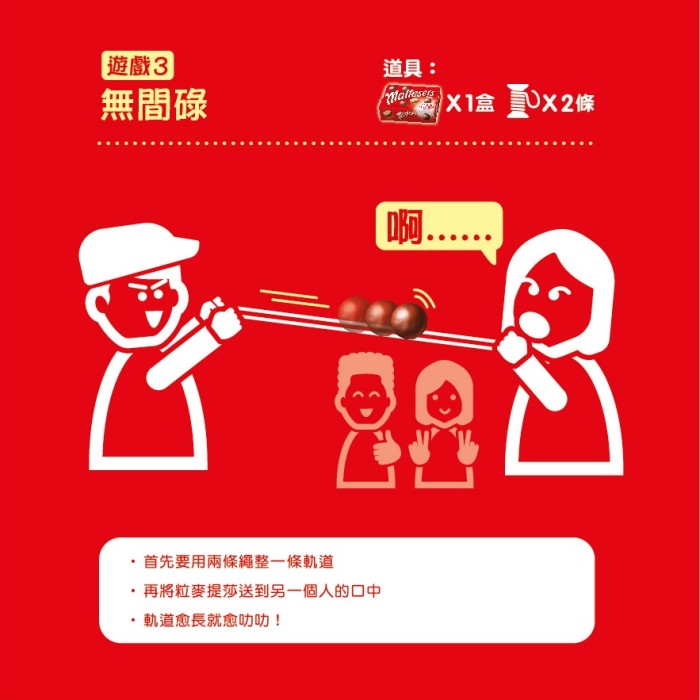 "The game kit plays a key role throughout the campaign where consumers are offered the chance to regain simple joys of playing games while enjoying our chocolates at the same time," said Cheng.
Last Monday, the brand also staged giveaways of 40,000 two-dimensional game kits complimentary with a copy of Sky Post on the street. They were distributed at five prime locations designed to capture office workers: Central, Tsim Sha Tsui, Kwun Tong, Kowloon Bay and Quarry Bay.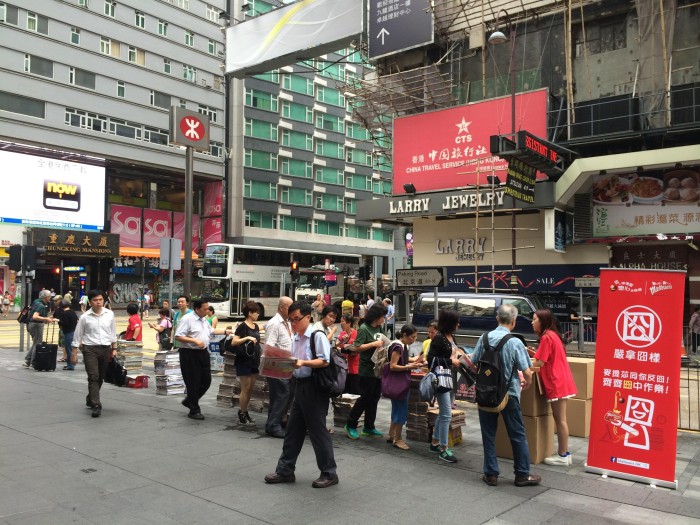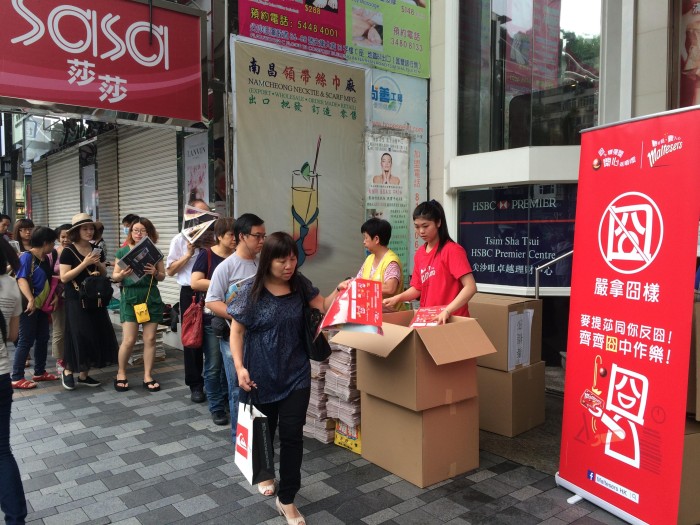 In the digital part of the campaign running until Friday, online banners containing an interactive mini-game engages users right in the online banner spaces of digital platforms rather than directing the user to a separate website.
"We developed a flash banner allowing interactive motion in a mini-game setting. It was placed in entertainment and leisure-focused portals and ad networks to extend our reach beyond those who could get hold of the physical game kit," said Cheng.
After playing the game, users are directed to a mini-site where they can register to receive a physical game kit delivered to their office.  The point of having a physical game kit rather than a digital one is to encourage people to interact with their co-workers instead of sitting in front of a computer alone.
In the game kit, there is also a sticker saying that "gwing" (囧) is prohibited, which people can use to decorate their office cubicles, keeping the brand message alive even after they stop using the game kit.