In view of recent events where brands found themselves on illegitimate websites, brand safety and viewability have evolved to be crucial factors considered while strategising effective communicative strategies.
However, according to a study released by Integral Ad Science (IAS), Malaysia's online environment is the riskiest in the region when it comes to brand safety, in particular for display ads.
The company analysed data collected from million of impression analysed in the second half of 2016 in six countries Indonesia, Malaysia, the Philippines, Singapore, Thailand, and Vietnam.
In the study, IAS highlighted that 6.7% of online ad impressions were flagged for featuring alongside content that present risk to brand safety. Similarly, risk for its video ads were also relatively high at 7.1%.
These impressions were flagged for appearing alongside content on web pages that pose a risk to the brand's safety based on seven categories – adult content, alcohol content, hate speech, illegal downloads, illegal drugs, offensive language, and violence.
What about viewability? 
Viewability demonstrated opportunity for improvement in Malaysia as well as in the region. This is particularly true for video viewability. According to the report, Malaysia was the only country that performed lower than global average.
Its display ad viewability was at 51.8% compared with 53%, while its video ad viewability was 45.2% as compared with 58.2% as mandated by the MRC .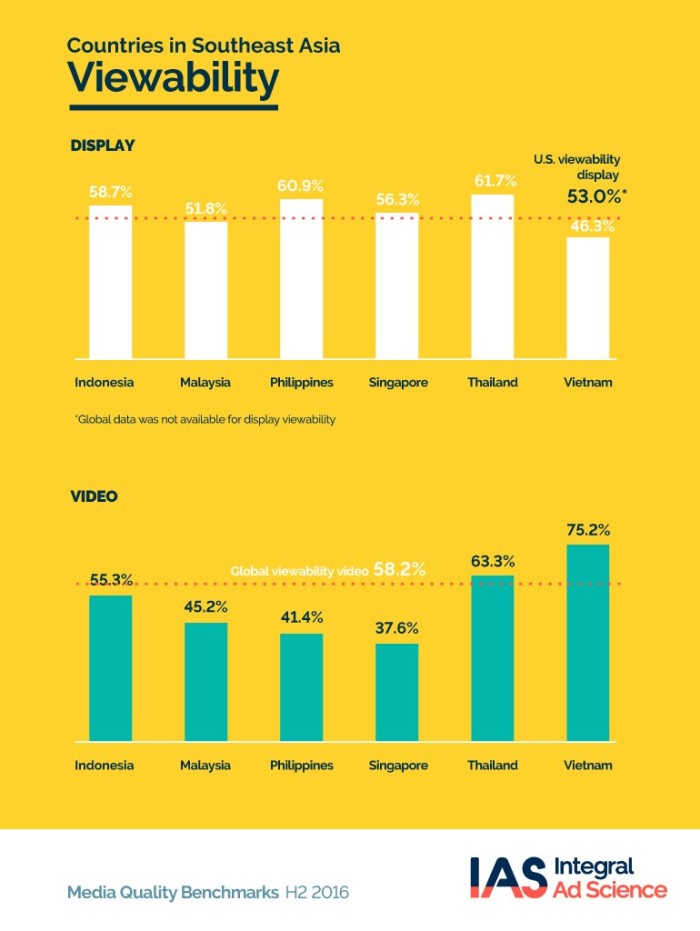 For digital video advertisements, the global average recently decreased from 11.2% in the first six months of 2016 to 8.9% in the latter half of 2016, said the study. Niall Hogan, managing director of Integral Ad Science, Southeast Asia:
However, with the advent of fake news and the increase in violent and extremist content, brand safety remains a critical issue for advertisers, underscoring the need for a solution to protect brand reputations.
Hogan explained that the benchmarks provide a clear picture of the challenges brands are facing in Southeast Asia. He highlighted the need to optimise campaigns for greater performance to improve advertising effectiveness.
"There needs to be a collective push from every player in the advertising ecosystem to demand greater transparency, especially pertaining to brand risk," he added.