Larry Luk, chief digital officer, L'Oréal oversees the digital division of some 24 brands under the L'Oréal umbrella in Hong Kong - a momentous task. Marketing's Carlos Bruinsma sits down with Luk to pick his brain on how he continuously pushes his brands forward in one of the most saturated markets in one of the most cutthroat industries.
L'Oréal is a beauty industry heavyweight, and has been for decades. The team explained that their business can be subdivided in four big divisions - consumer products, luxury, active cosmetics and professional products. Each of these divisions are based on sales channels; for example consumer products are distributed through pharmacy chains like Watsons or Mannings, whereas the professional products are sold through b2b partnerships with salons.
Over the past year, the group has generated €26 billion in revenue globally. The brands they manage include icons in their own right, like Kiehl's, Lancôme, Kérastase and of course, the eponymous L'Oréal.
Luk's remit is to cover all of these different divisions and brands, and make them palatable to their digital audience.
"It's a challenge - but a fun one!" Luk said with a smile.
Luk, perhaps surprisingly, started his career as an architect and interior designer before making his way as a visual merchandiser. From there on, he went into product buying and e-commerce, before finally making his way to his current role.
"I have a curious mindset, and I'm interested in generating new ideas to problem-solve," he says by way of explanation. "Marketing is a profession that embraces that."
He joined the brand in April 2017 as the first chief digital officer in Hong Kong. "Being the first in the role, I have the opportunity to shape what the role is for Hong Kong," he said. "Yet, we have a backbone of digital strategies to guide us through it. We have a very clear integrated digital strategy."
The three key pillars of what Luk defines as 'digital' are CRM, e-commerce and digital marketing.
"Managing the team is also a key focus, and one of my biggest passions is working with the team and disseminating that strategy by division, and by brand. They all have a unique personality and business model. And of course, we have global resources to help," he explained.
And people are a big focus for the group as a whole. Since the appointment of the first CDO in 2014, L'Oréal has recruited more than 1,000 individuals into the digital arm, 20 of which reside in Hong Kong. And ultimately, it's these people that need to be the experts - 14,000 marketers were retrained as well.
"We've partnered with General Assembly to upskill our marketing population, delivering over 70 modules. It's a wonderful opportunity, and very exciting."
But just because they have a team of digital experts, does not mean they solely rely on the digital team to do all digital tasks - that would not be enough, according to Luk. Instead, they position the digital experts as "agents of transformation" - or more practically, generating new ideas and helping the rest of the team get grips with the various skillsets needed to effectively communicate with consumers across every touchpoint.
"At L'Oréal, we're very consumer-centric, especially in terms of looking at how we get in touch with our consumer - and so our key buzzword is mobile-first. How can we communicate our message through mobile devices first?"
And Luk doesn't just talk the talk either - he puts his money where his mouth is.
"I personally try to use only my mobile throughout the day - no laptops - just to see how we're being mobile-friendly, not just externally, but internally.
"It took some time to get used to, but it's critical! The generation now wakes up, checks Facebook first thing. The workforce is younger, the way they behave is changed by how they consume media."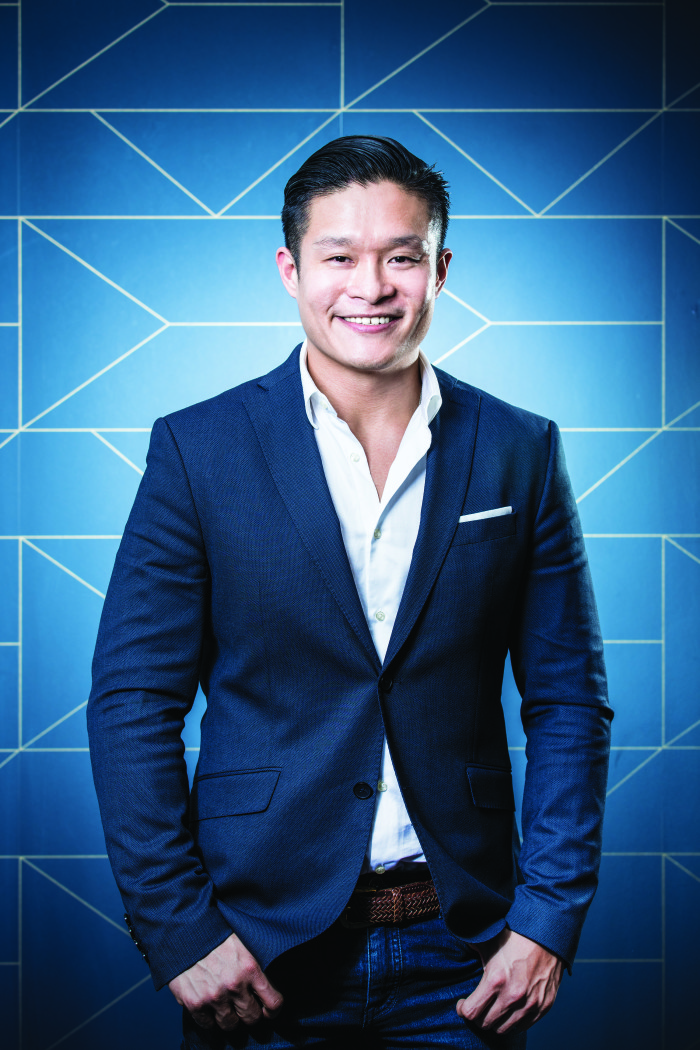 And while that's not the only thing that's changing, but it is perhaps the leading trend among consumers. Luk refers to a "digital tsunami", and explained that how consumers experience things, and how they interact with the brand, to how we work internally, everything is digitalised.
"It's a massive disruption. At L'Oréal we are preparing to expect the unexpected - all the upskilling internally and the talent we recruit, they all have this mindset of teamwork and collaboration. #TeamIsTheNewHero," he said with a laugh.
For the beauty industry in particular, and L'Oréal more specifically, consumer tastes are changing as well. The e-commerce business, for example, recorded a 34% increase in turnover, accounting for some €2 billion - 8% of total revenue.
"So on the one hand, we have e-commerce, and on the other, we have Asia - and Hong Kong sits in both."
Within Asia, Luk quotes luxury as driving double-digit growth, and in Hong Kong, a big trend is O2O.
"I know it's a huge buzzword, and everyone is tired of hearing it," he said with a laugh. "But we have 70 retail stores and if we can leverage these points of sale to drive consumer engagement and drive them to the end goal (shopping) and engaging people with the brand experience (our product) this has to be our focus, and it has been."
At the moment, the group focused a lot of their media dollars on for exampl on driving traffic to the physical store. For example, they aim to actively drive the consumer to collect samples and try the product on, or get a consultation in-store, through outlets like Facebook and WeChat, through WC, to be able to reach out to different demographics.
The physical points of sale, then, are a strategic place to give consumers a tool to experience the brand - not only the product, but the decorations, the background, the range of products available and much more - "the DNA" of the brand.
Moreover, when people visit the stores, the L'Oréal, the beauty advisers are trained to help people understand not just the product, but the brand as a whole.
"Hong Kong is unique in that we have so many counters, so our beauty advisors can give a full demonstration of the brand experience."
This plays into the brand's goal to be "100% loved", and at the same time, achieve 50% customer engagement.
For example, with Lancôme the team embedded a Facebook pixel into the website to  to track the customer journey and serve personalised ads. Similarly, some of the group's brands use social listening for product development. Luk explained how Nyx Professional Makeup noticed a new trend regarding bold lip colours; they quickly developed a campaign and developed a relevant product. One of the posts on Instagram netted a whopping 40,000 likes, on a page with 12 million followers, all by paying attention to trends and capitalising quickly.
But there's no perfect formula for success, and things are in a perpetual state of change: "The KPIs always change, the sentiment always changes. And how you listen also changes. Right now, we're using words for social listening, but soon we'll be using pictures."
While Hong Kong is relatively conservative in terms of shopping habits, as many consumers still prefer to have a wander around a physical location to keeping the whole shopping experience online, ecommerce is unsurprisingly a big focus for the group going forward.
At L'Oréal, we have to focus not just on direct e-commerce, but on indirect e-commerce as well. So for example, by partnering with e-tailers, and department stores like Lane Crawford - we already have a presence on some platforms and are working on strengthening our partnership with for example LaneCrawford.com."
On the direct front, L'Oréal has a global partnership with Salesforce, which would potentially open multiple windows of opportunity.
"E-commerce is our key focus globally, so we're looking into it," Luk said with secretive smile.