With Mother's Day is approaching, beauty brand L'Oréal has launched a seasonal digital campaign named "Don't listen to Mama" to celebrate mothers in an unconventional way.
The campaign, created by MRM//McCANN Shanghai, runs on WeChat targeting at the registered members.
Each member will receive a seasonal greeting message featured four illustrations depicting four warming stories during different stages of life, "exposing" all the white lies have told by a mother – who did so all for her child's own good – to highlight mother's unselfish love.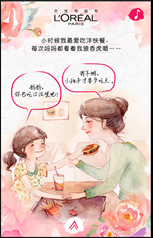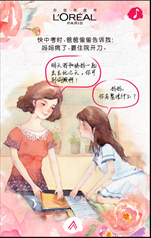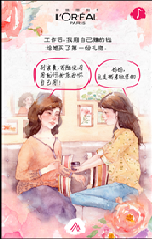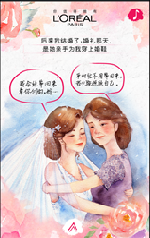 The campaign ends with an emotional message that "Mama is already old" to tug at the heartstrings and urge the audience to express their love and gratitude to their mothers.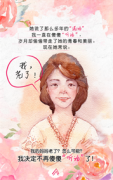 The brand has also designed a limited edition flower box set and offers special discount to drive sales at the counter and on the brand's e-commerce platform.
The campaign has already attracted more than 20,000 participants just two day after the launch.
The campaign will run until mid-May.
Credits:
Client:L'Oréal Paris
Campaign: Mother's Day Campaign
Creative agency: MRM//McCANN Shanghai
Senior creative director: Ricky Chen
Senior art director: Artlan Wang
Copywriter: Umi Hou, Yan Xie
Group account manager: Fiona Zang
Account manager: Kevin Deng
Account executive: Lynne Yang