Local creative ad agency Vitalstrats Creative Solutions (VCS) celebrates its 10th anniversary with a new office and a rebrand reflecting its renewed focus on growth in the next decade.
From just two home-based staff, VCS has grown to become a lean mean machine of 12 creative talents which have quietly worked on notable brand campaigns. Among them are Canon, Doublemint and Nike and the rebranding of the Philippine Marketing Association.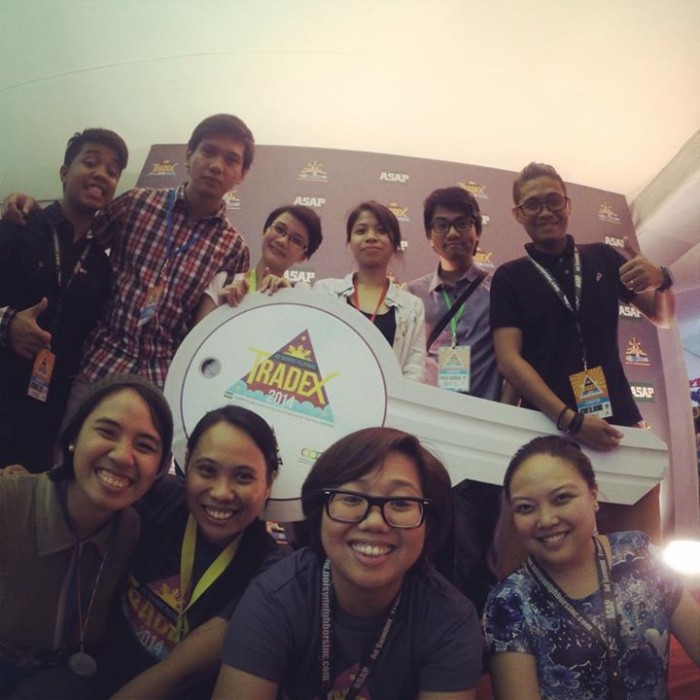 VCS is still located at its original office at Kalayaan Avenue, Quezon City but has now doubled to make room to possible new hires in the future.
The agency has built up a strong portfolio of work spanning digital and traditional media but VCS's most notable work is in hologram 3D activations. One of the pioneers of the technology locally, VCS is the agency behind some hologram displays of Globe Tattoo, Lexus and the recent Ad Summit 2014 of the Philippine 4As.
The new office come complete with a new logo. VCS replaced the circles on its old emblem and replaced them with interlocking triangles representing the agency's core values, Amrei Dizon (center with glasses), general manager and creative director of VCS, shared with Marketing. Below is a rundown on the intricate meaning of the new logo.
3 Sides of the VCS Triangle
1. Creativity (base of the triangle) – Our base, our starting line, because it is through creativity that this company has been conceived.
2.  Passion (right side of the triangle) –Our fuel to achieve greatness. Represents the right side of the brain in charge of curiosity, inspiration and emotions.
3.  Excellence (left side of the triangle) – Our output – excellence in both quality and in service. Represents the left side of the brain in charge of accuracy, attention to detail, solving creative problems using logic and analysis, faithfulness to the brief.
The triangle having an opening/gap - Represents our openness to change (our market has ever changing needs) & flexibility for continuous innovation, always evolving to address the needs/gaps in the market.
The triangle growing bigger from the core - Represents continuous growth/infinite progression.
The logo being tilted upwards - Represents creativity, playfulness and thinking outside the box
Meaning of Orange - Orange is a color of adventure which inspires and creates enthusiasm. It is optimistic and sociable and suggests affordability.
Meaning of Yellow - Yellow is an illuminating and uplifting color which stimulates our analytical processes and assists with mental clarity.
Meaning of White in Business - White is a blank canvas waiting for creative stimulation. It implies efficiency and simplicity, fairness and order.