Ah, sweet competition. Among those eagerly waiting for the new iPhone was Nokia, who took a look at its brilliant design and saw, well, itself.
Nokia UK was quick to newsjack the growing buzz about the jazzed up iPhone 5C on Twitter, making sure people know that Apple isn't the first smartphone brand to offer flagship devices in a variety of shades.
Just hours when Apple made the highly-anticipated unveil, Nokia flaunted the fact that its Lumia phones have been available in different colors for years.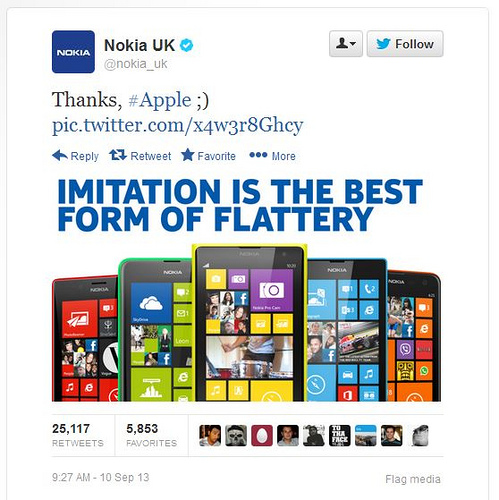 "Imitation is the best form of flattery," said Nokia with a picture of its own line of colorful phones, ending its humorous tweet with the words  "Thanks, #Apple ;)."
This isn't the first time Nokia taunted a brand. It recently made fun of Google's Android 4.4 KitKat and Samsung co-branding tie-up with a tweet showing the Galaxy S4 breaking in half.