Throughout the year, the #SG50 has been trending on consumers' profiles be it on their tweets, Facebook shares or Instagram posts. Nationalistic sentiments were at an all time high.
However, a recent study by Digimind Social showed that amongst these nationalistic tweets, were hijackers from several animal activist groups. Interestingly, animal rights activists decided to take over #SG50 to draw attention to the plight of captive dolphins in Resorts World Sentosa (RWS), a family-centric attraction.
While #RWSmoments is the official hashtag for the popular tourist destination, these activists had another use for #SG50 and #RWSmoments, tweeting unpleasant remarks about RWS for allowing animal cruelty and captivity, while attempting to provoke Singaporeans to respond.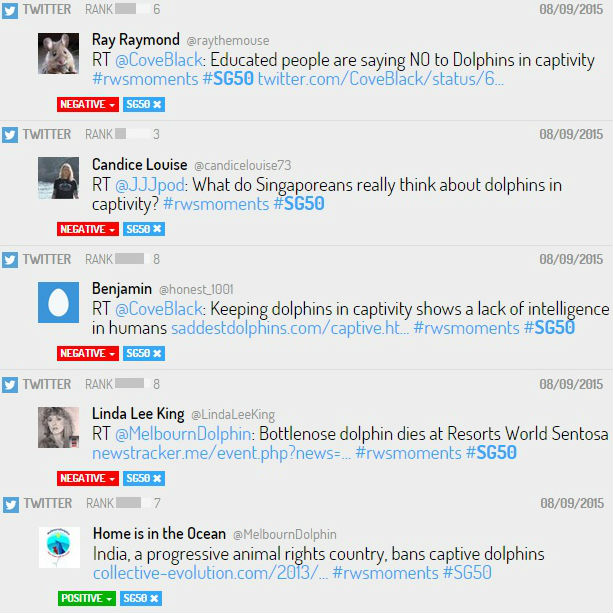 One such group, @MelbournDolphin, tried to lend clout to local animal rights group, Society for the Prevention of Cruelty to Animals (SPCA), by tweeting a YouTube video made in June to plead with RWS to release their dolphins.
A look at Digimind Social's influencer snapshot showed that most, if not all of these "hijackers" hailed from beyond Singapore. The proximity of groups like @MelbournDolphin (Home is in the Ocean) and @CoveBlack on the influencer map, coupled with re-tweets of each others' posts indicates that they were banding together for a common cause.
Another group that also joined the cause was Singapore Mums Against Captivity, a group of mothers campaigning against the captivity of dolphins. However, while they are a local group connected to this cause, they are still lacking in clout with only 70 followers.
Curious to see how #RWSmoments would develop in relation to #SG50 and the dolphins, Digimind Social monitored it before, during, and after National Day on 9th August. While the mentions started on 3 August and gained momentum on 4 August, it tapered off on 9th August itself, having peaked at 1, 067 mentions on 8 August. A sharp drop by 90% followed in the week after National Day.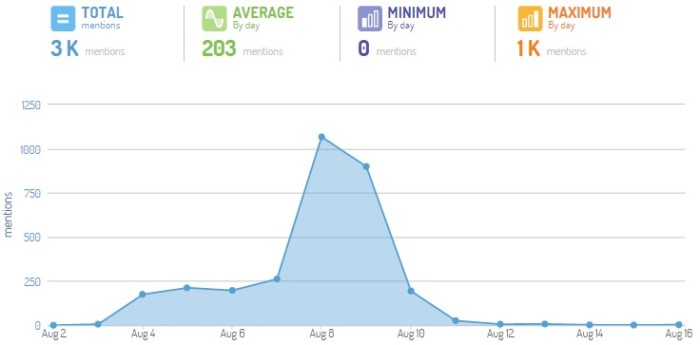 "As was the case for numerous brands this year, SG50 was an opportunity that animal rights groups did not want to miss. However, these groups did little to sustain the conversation, much less contribute something significant to SG50 as a whole," said the company in a blogpost.
What they could have done, said a spokesperson from Digimind, is call for a more humane side to the Singaporean spirit rather than simply using it to highlight the dolphins' plight, something that many are already aware of in Singapore.