It may be redundant, but the launch of a new iPhone is still as exciting as ever to prompt the formation of giant queues in this part of the world.
DiGi Telecommunications has launched a virtual line called DiGiFASTLine in conjunction with the release of the iPhone 5s and 5c in Malaysia, queuing starts on 31 October 2013.
Ramesh Rajandran, head of e-business for DiGi Telecommunications told A+M the decision to use virtual line was in response to consumer demands.
Capitalising on fans' enthusiasm to get the coveted smartphone first, the virtual line gives 250 consumers a space on the real line if they can generate enough social currency.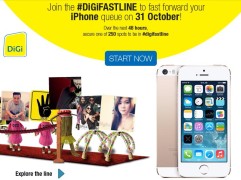 How does one get social currency? By helping DiGi promote the offering via Facebook shares and Tweets.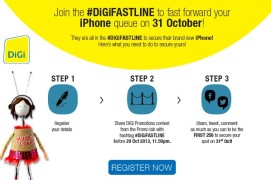 According to Derek Tan, regional executive director, social media for IPG Mediabrands, DiGi is the only telco taking advantage of the eminent launch of the iPhone 5s gold and the queuing trend at the moment.
"It's  a great opportunity to reward people and have them talk about the brand at the same time, too."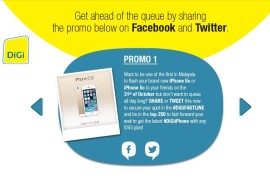 The campaign was created by Monster Interactive with Springcreek on social media and Starcom on media buys.