Too much love for a brand can never be a bad thing, right?
In a hilarious post, a consumer's husband put up a post on popular online shopping site Zalora Malaysia's Facebook page asking the site to ban his wife by pretending that the server is down and the computer is faulty.
Here's the post: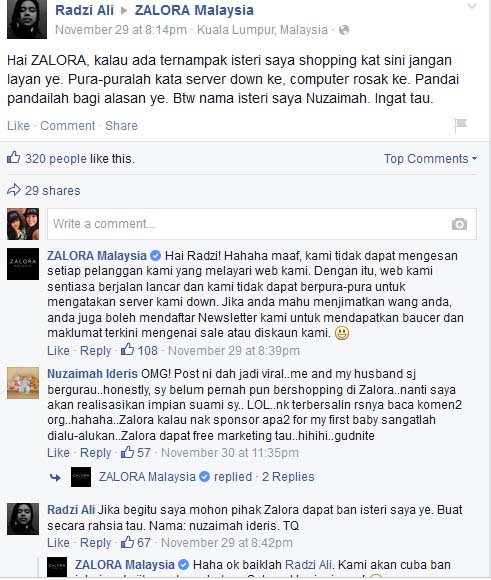 Zalora's response was friendly, concise and to the point.
"Hi Radzi! Hahaha sorry , but we cannot detect any of our customers who visit our website. Our web has always run smoothly and we cannot pretend to say our server down . If you want to save your money, you can also sign up for our Newsletter to get the vouchers and the latest information on our sale or discount."
Soon after, Radzi's wife – the epic shopper herself, also wrote on the post:
"Hi Zalora…I don't think it is good for you to ban potential client like me. Don't disappoint your client Zalora. Come on..cheers for Zalora..By the way, how can I get discounts from you? Lol"
The post has gotten close to 30 shares and over 300 likes.
Meanwhile Zalora has also rolled out a branding initiative "OWN NOW" to encourage people to be confident about themselves and to "own it". The campaign is now entering the second phase with a new film entitled "Own the night" along with a 30 seconds TVC launched yesterday.
Created by Blacksheep Live, the initiative is an invitation for people to get dressed up and let their inner confidence shine through with fashion. It is a call for individuals to not wait for perfect moments to happen, but live in the moment and make it their "own". The 30 second TVC runs in five markets including Malaysia, Indonesia, Thailand, Vietnam and Philippines with digital roll outs in Singapore and Hong Kong running concurrently.