In lieu with the prostate cancer awareness month, Singapore Cancer Society placed a print advertisement in The Straits Times. Building on the disease's common symptom of difficulty in urinating, the society took a light-hearted jab at this to connect with the audiences.
The advertisement cheekily showcases a man falling asleep at the urinal while attempting to, well, have a go at their number one.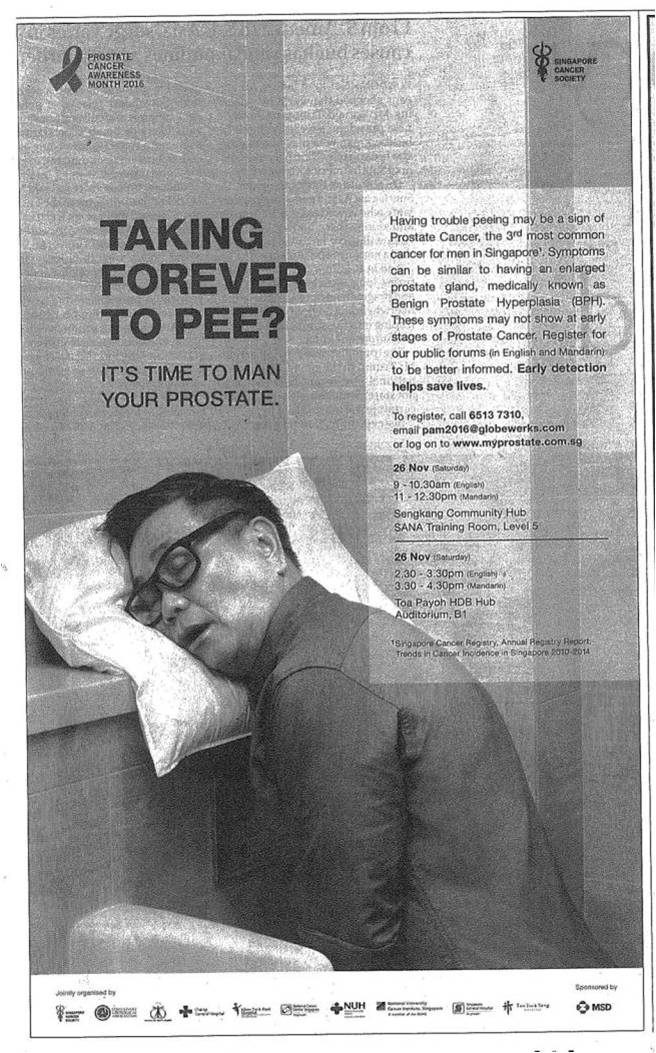 It questions the audience: "Taking forever to pee? It's time to man your prostrate."
The agency behind the ad was Up& Up which also bought the media spots for the campaign. According to the agency the insight to this ad was based on a doctor's comment that urinary issue forms the main symptom of prostate cancer. Marketing has also reached out Singapore Cancer Society for more comments.
"Because it is only for men, you get get a little more cheeky," said a spokesperson from the agency. The ad is slated to run for the entire month of November online and on print.
While cancer in itself is a sensitive topic, several industry folks Marketing spoke to lauded the move.According to Timothy Chan, creative director at Govt, Singapore Cancer society, and the ad agency involved should be commended for being brave and creating the ad.
Chan said," Humour isn't usually a go to method when it comes to heavy topics like prostate cancer. In some cases, using humour can backfire as it falls on bad taste." He added that in this particular case, the use of tongue-in-cheek humour has the power to "stop" audiences and make them have a "second look". He added:
As for the tagline I can see why some people might be up in arms about it, but it is important to note that this is a male subject matter and it's not being sexist about a topic.
Similarly, Ng Khee Jin,  founder and creative director of Wild Advertising and Marketing said that considering the topic, it could have potentially have turned out as a boring announcement ad, but it didn't.
I think the ad is fantastic. It is funny, made me laugh and highlighted a symptom of prostate cancer in a relevant, exaggerated manner.
"Jokes about falling asleep while trying to pee is common, these creative guys simply visualised it," he added.
Over the years, the Singapore Cancer Society has produced a number of bold ads. When it turned 50 in 2014, it kicked off its 50th anniversary celebrations choosing Lavender MRT station as its venue for World Cancer Day celebration which hosted some controversial ads asking people to "Give a ****"
Three years ago, The Singapore Cancer Society's campaign asking women to lift their skirts also garnered attention for bad copy for its noble cancer prevention cause. The campaign mimicked Marilyn Monroe's iconic pose in her film The Seven Year Itch with local female celebrities and ran with the tagline "Lift your skirt. Save a life."