The local advertising spending continues to go downhill – dropping by double digits following the same crash in Q1.
According to the latest report by media-monitoring firm AdmanGO, Q2 followed the 13% YOY drop in adspend in Q1 and marked a breaking record of 14% YOY decline.
The drop was a believed consequence of marketers cutting down in adspend in traditional media. All the top 10 industries for paid paper saw an adspend cut, marking a 24% YOY drop.
As for the TVC, it was still ranking top in the adspend media share (31%), but its top player toiletries & household and its third player pharmaceuticals & healthcare were down by 20% and 19% in its adspend respectively, although the second ranked beverages recorded a 21% YOY increase. The adspend in TVC showed a 11% YOY decrease.
The adspend in outdoor media also dropped by 10% when compared with the same period, MTR ads' decline as the main reason. Only free paper (4%) as well as radio (1%) saw a YOY increase in adspend.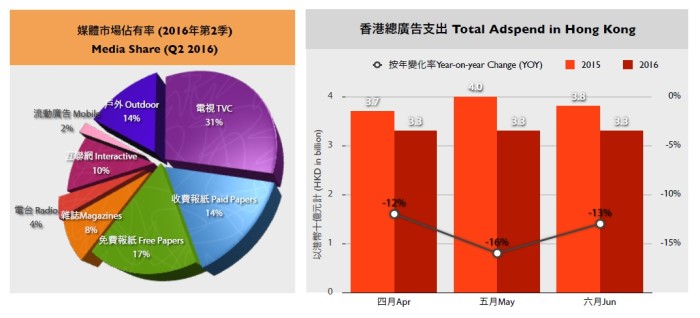 Majority of the top 10 industries such as banking & investment services(-22%), cosmetics & household(-47%) as well as toiletries & household(-19%) were staying more cautious, while the Beverages (1%) and health & beauty food (16%) industries were up by 1% and 16%.
In particular, the adspend by milk powder for adults (72%) and milk & soya drinks (54%) showed drastic surges, biggest driver from Fonterra-Anmum, the report said.