Hong Kong is getting ready for its upcoming Legislative Council elections on 4 September 2016, and social media has made a bigger impact in this election cycle than any other in history.
It saw some candidates are desperately pumping up followers on Facebook and replaying speeches on the platform to amplify traditional campaign-trail rallies.
Based on statistics compiled for the upcoming Legislative Council electoral candidates, more than 90% of those in the "Geographical Constituencies & District Council (2nd)" category have already set up an official Facebook page, versus 44% for the "functional constituency" category, according to Facebook.
But which politicians are leading the way in the social media race? Facebook's report reveals that among all candidates in the geographical constituencies and district council, 'Long Hair' Leung Kwok Hung (梁國雄) of the League of Social Democrats (LSD) is the most 'liked' politician with over 205,300 'likes' on his public page as of 8 August, 2016.
Democratic Party's Roy Kwong (鄺俊宇) ranks second with 167,900, while Civic Party's Alvin Yeung (楊岳橋) with 81,000, businessman Ricky Wong Wai Kay (王維基) with 70,300 and New People's Party Regina Ip (葉劉淑儀) with 69,700.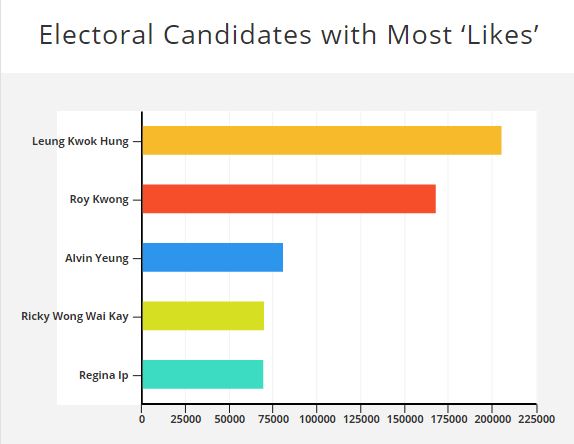 [caption id="attachment_145918" align="alignnone" width="513"]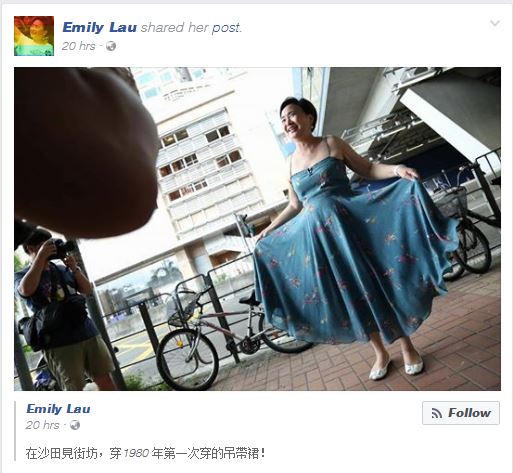 Emily Lau earned much exposure on the internet this weekend with her sexy outfit.[/caption]
[caption id="attachment_145916" align="alignnone" width="494"]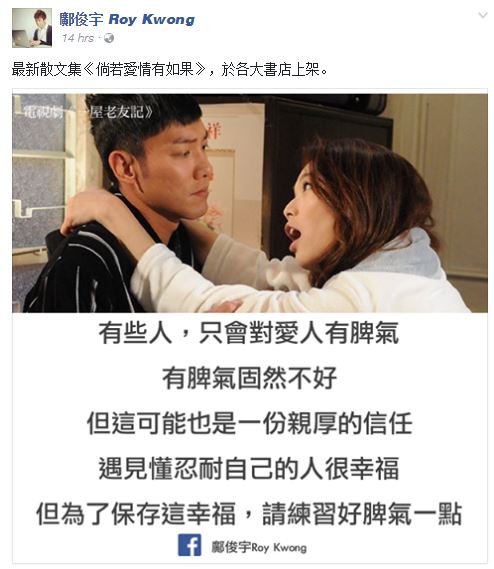 Candidate Roy Kwong is, on the other hand, boosting his fans number with his short love-themed taglines.[/caption]
As for the functional constituencies category, Charles Mok (莫乃光) wins the race with 11,000 likes, Dennis Kwok (郭榮鏗) with 6,800, Adrian Chow (周博賢) with 6,300, Ip Kin Yuen (葉建源) with 4,400 and Ken Tsang (曾健超) with 3,600.
Some more wrap-ups on social media highlights for "Geographical Constituencies & District Council (2nd)" :
As for functional constituencies, here are some more analyses:
The statistics were calculated for the period spanning 8 July to 8 August, 2016.
The social media platform said politicians need to have a calendar to plan out their strategy and ensure they're engaging in relevant conversations at the right times.
It also recommended politicians to publish at least one post a day, which will be more effective in sustaining the interest of fans.