Letv has formed an alliance with California-based electric vehicle company Faraday Future (FF), a Silicon Valley-funded start-up which has dreamt up an electric concept car FFZERO1.
The two companies will engage in in-depth sharing and cooperation of vehicle, technology, Internet and cloud to create the next generation of smart and Internet-based means of transportation.
[caption id="attachment_121456" align="alignnone" width="700"]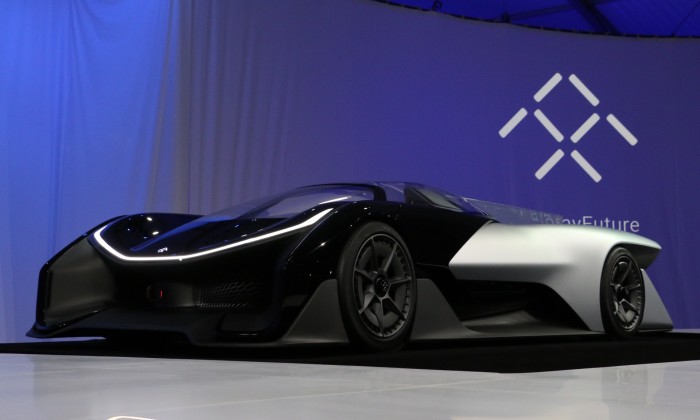 FFZERO1[/caption]
"By working with FF, we will integrate resources from both sides and transform vehicles into the most attractive new platform for digital content and Internet technology application. Meanwhile, we will also explore areas such as unmanned driving, car rental and car sharing," said Ding Lei, vice chairman and executive director of Letv Super Car Global, vice chairman of Letv Super Car (China) and APAC region and CEO and president of Letv Super Car (China).
"FF and Letv will work together in multiple fields of vehicle model development," said Nick Sampson, head of R&D and engineering at FF.
"Letv will provide FF with supreme content, innovative technologies and a brand new eco-business model. Meanwhile, with the expansion of the global business, FF will also benefit from Letv's power and position in the world and especially the Chinese market."
According to Sampson, in addition to its partnership with Letv, FF is also willing to work with investors from the world's major markets to reform the auto industry and improve people's living environment.
FF is a start-up company with support from Silicon Valley and a globalized senior management team consisting of top auto and technology experts. The 550 employees of the company are all of rich experience in the energy, aviation, design, automotive and technology industries.
On 10 December 2015, FF made an announcement to establish its most advanced manufacturing plant in North Las Vegas, Nevada, with a total investment of 1 billion USD. The project also received a tax preference and capital reward of up to USD$335 million from the Nevada State Government.
"Through the strategic cooperation with FF, Le Super Car has not only embraced its most important partner but also started to implement its open ecosystem in the US," said Lei.
"We will continue to work with partners and talents from around the world to create our vertically integrated smart and Internet-based transportation ecosystem, and help protect the earth and improve people's living environment."
Globalisation has been among Letv's key strategies in recent years.
In addition to the new but already international auto business, its mobile, sports and LeMall (e-commerce) businesses have also embarked on the international path by entering into the overseas market. During the 2016 CES, Letv will demonstrate its businesses streams across the entire ecosystem.
LeAutolink will present 3 products at the same time, and the LeAutolink version of the Aston Martin Rapide S will also be launched. It will be interesting to see a time-honored super car brand implanted with Internet genes.
During the CES, the Le Super TV, Le Superphone, smart devices, Letv Cloud and content will all make appearances. It is known that Letv is planning to launch several new products including the new generation of ultra-thin Le Super TV and the new generation of Le Superphone with Qualcomm Snapdragon 820 during the CES.