The first "BrandZ Top 30 Chinese Global Brand Builders" ranking and report has been released by WPP and Kantar Millward Brown in collaboration with Google. Lenovo, a global leader in personal computer and mobile technology, leads the charge as the most powerful Chinese export brand with a Brand Power score of 1,682.
It is followed by the innovative international brands Huawei (1,256) in the consumer electronics category and e-commerce market place giant Alibaba (1,047). Consumer electronics brands represent 40% of the ranking's total Brand Power, and dominate the Top 5 – Lenovo (no. 1), Huawei (no. 2) and Xiaomi (no. 5) – an indication of the strength of Chinese consumer electronics brands overseas.
The 2017 ranking lists the Chinese brands that have most successfully established a presence in overseas markets. Kantar Millward Brown calculated the Brand Power (the BrandZ™ measure of consumer predisposition to choose a particular brand) of Chinese brands outside of China across seven countries, supported by Google's Consumer Surveys. The evaluation is based upon a list of 167 Chinese brands with the medium Brand Power score of 85, a sum of seven countries' score.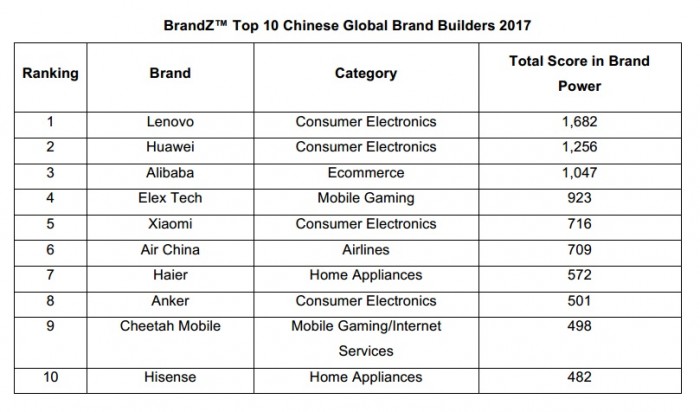 The study shows that internationally the attitude towards Chinese brands is shifting. While established brands (in categories like consumer electronics and airlines) currently have an edge over the emerging internet-driven brands (mobile gaming and e-commerce), with 57% of the total Brand Power in the ranking, digital brands are the real winner. Combined, consumer electronics and mobile gaming lead the ranking, both in terms of the number of brands in the ranking (17) and combined Brand Power (59%). This composition reflects the transformation of Chinese brands, which consumers abroad increasingly associate with innovative digital devices and services.
One challenge facing Chinese brands is that international consumers are generally less aware of, and less likely to consider purchasing, a Chinese brand than a local or globally recognised one. However, the research shows that awareness and consideration gaps vary, with consumers in France, Germany and Spain more aware of and likely to consider Chinese brands than consumers in Japan, Britain or America.
David Roth, CEO EMEA & Asia, The Store WPP commented: "The study shows that the movement of ideas and product leadership has expanded globally, with consumers increasingly looking to China as a potential source for the newest and most innovative products and brands."
Doreen Wang, head of BrandZ™, Kantar Millward Brown added: "Brands today are able to use the internet to give them global reach, leveraging their brand equity as a global identity and passport. The expansion of a brand is now no longer defined by the limits of their category, but by the possibilities of technology. So there is no longer a need to wait to be a domestic giant before going global. Start your brand intending to go global, and anticipate the necessary business infrastructure."
Key highlights of the BrandZ™ Top 30 Chinese Global Brand Builders 2017 study include:
Negative perceptions of Chinese products are declining. Consumers recognise that product quality has improved, and they increasingly choose brands based on benefits and relevance rather than fame. As the number of Chinese brands going global rise, so will consumers' receptivity – facilitating further expansion. Now is the time for Chinese brands to expand abroad.
Technology brands are closing the 'awareness gap'. Chinese brands are still less well-known than global or local market brands, and consumers are less likely to buy them. Technology brands are changing this by showing they can improve consumers' lives by applying digital technology and establishing ecosystems that combine e-commerce and mobile payment apps with other services. They must now leverage their success, while brands in other categories should learn from them – closing the 'gap' by telling powerful brand stories that clearly communicate their quality and relevance.
There is great potential for internet-driven brands. Established brands enjoy high Brand Power but lack differentiation which is increasingly important in the digital age. In contrast, newer, internet-driven brands have had less time to meet consumer needs but are seen as distinctive due to their products and innovation.
Chinese brands tend to operate faster than Western brands. Speed is definitely an advantage, and a certain level of systemisation can simplify decisions and add useful knowledge.