American denim brand Lee Jeans has launched a digital campaign across 32 cities and 400 stores in China, featuring a new line of denim fabric - Magma Fusion - that retains body heat.
Created by TBWA\Hong Kong, the campaign kicks off with a series of inspirational videos and related content featuring Chinese KOLs pursuing their passion, undeterred by the cold winter weather.
KOLs include singer Zhou Bi Chang as an aspiring photographer, model-turned philanthropist Bonnie Chan, gourmet chef Wei Han and fashion designer Helen Lee as denim expert.
Chang will then call local fans to join the "Lee Warmth Tracker" initiative, which is embedded in Lee's WeChat account.
The tracker records how far they have explored the city and rewards them with "Warmth Index Points".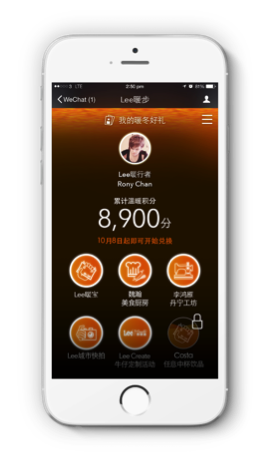 To earn extra points, fans can scan QR codes at Lee stores and some popular out-of-home sites across China.
Collected points can be redeemed for gifts such as the new Magma Fusion jeans, exclusive workshops hosted by the KOLs, free coffees and movie tickets. Achievements can also be shared on WeChat.
The campaign will be complimented by print and out-of-home ads in top-tier cities across China.
[gallery link="file" ids="113624,113625,113626,113627"]
"In cold winter, people in China would rather stay indoors to stay warm. We hope this campaign can remind our fans to keep pursuing their passion and can truly enable them to put this into action this winter", commented Vincy Ho, marketing director of Lee Jeans China.
"The tracker system came directly out of our Creative Tech Lab since it currently doesn't exist on the branded WeChat platform. It's a breakthrough since no other brand has yet embedded a tracker on this platform to reward different levels of fan engagement", added Joanne Lao, CEO of TBWA\ Greater China.