Philippine logistics company LBC Express has recently set up an interactive LED billboard where Filipinos can greet their loved ones and be seen in the busiest thoroughfare in the country.
Supporting its ongoing ATL effort, LBC and Havas Media Ortega's (HVMO) Arena placed it latest OOH campaign along EDSA, streaming user generated content from the public in an attempt to engage the community.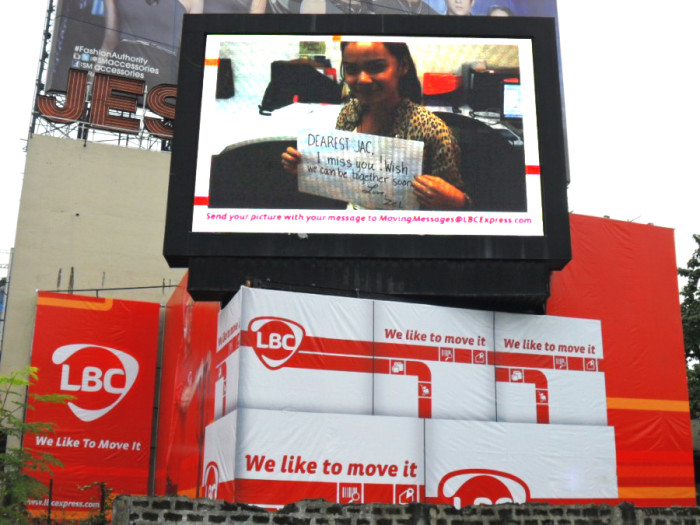 The mechanics involve taking a photo of oneself and writing a message for someone and then sending it to MovingMessages@LBCExpress.com. The campaign was launched 1 December  and will run until the 15th of January next year.
"Through this campaign, the brand wanted to allow the people to be active participants. We like to impart how LBC improves the well-being of people's lives in a significant and fulfilling way, and what better way for that to happen than to engage our customers into something rich and meaningful. Through this, we want to shift the consumers' mindset on the new LBC, that is now focused on the consumers and to create meaningful connections," Kankan Ramos-Lim, social marketing director at HVMO.
LBC quietly undergone a rebranding exercise via Tangible Singapore, dropping its decades-old Filipino tagline "Hari ng Padala" for an English motto "We like to move it." Creative duties are chiefly handled by Arena, following a role expansion from digital AOR.