After several years launching interactive campaigns where venues were confined to its physical stores, LEGO Hong Kong has gone all out to try something new for the year of Rooster.
Themed "Give the gift of play", the brand has introduced a large "intelligent speaking LEGO Year of the rooster figure" with an outdoor interactive truck to drive through Shatin, Tuen Mun, Mongkok and other busy districts. It marks the brand's first outdoor interactive campaign in recent years, and it has garnered an estimated number of 20k people for onsite engagements and more than 500k organic reach on social media.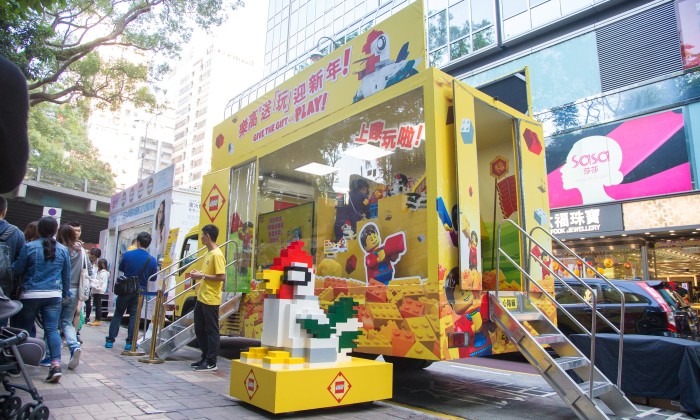 [gallery link="file" ids="164143,164142,164141,164140,164371"]
Launched between 7 and 15 January, the interactive truck invited children and parents to build a mini rooster figure with LEGO within a time limit. By achieving the task, or taking photos with the figures and uploading them to social media with specific tags, participants would be gifted a mini LEGO Year of the Rooster Figure gift pack.
The big rooster figure, on the other hand, circled around the truck to surprise the pedestrians. Devices were installed on the figure to enable chat and word-plays about traditional customs with children.
Jenny Leung, trade marketing manager at LEGO, said the campaign has sent out more than 50,000 gift packs so far, and the limited Year of the Rooster edition box set has been sold out "much faster" than previous years.
"I could tell that this year we have doubled up our social media reach," Leung said. "Compared to launching interactive campaigns within the in-store area, which we usually did, we reached our local targets better this time by diving into the neighbourhoods."
"Our peak seasons are usually at Christmas or summer holidays, so for this Chinese New Year campaign, we aimed to engaging our customers and promote brand awareness," she added. "The hands-on experiences have definitely helped to deliver the message that parents should spend more quality time with children."