Lane Crawford today debuts a RMB 400 million flagship store in Shanghai seven years after it withdrew  in 2006, with the new store to be the largest in the brand's portfolio.
The 150,000 square feet store, located at Shanghai's Times Square, will feature 500 international brands across women's fashion, beauty and fine jewellery, menswear and home and lifestyle.
"Lane Crawford has a long history in China and particularly Shanghai. Since the company opened its first store here on Nanjing Road in 1872, the city has been an important part of our heritage and we are thrilled to be back in the heart of Shanghai," said Andrew Keith, president of Lane Crawford.
Its first China store opened in Beijing in 2007 saw more than 300 new international brands introduced to China for the first time. The new store will feature an even wider range of international luxury brands ranging from Alexander McQueen, Givenchy, Lanvin, Saint Laurent Paris, Alexander Wang, Sacai, Alice & Olivia to J.Crew.
Apart from selling well-known brands to Chinese customers, Keith said the new store is devoted to offering newer brands, including Jil Sander and Jason Wu, a platform "to create and collaborate, while giving them exposure to a broader audience".
In line with its "connected commerce" strategy which aims to provide a more seamless shopping experience both online and offline, the new store is strategically designed to have a better connection to its online store, where customers can order online and collect orders at the "Online Shopping Concierge" in the store.
"In Shanghai we're building on that portfolio with greater depth, and driving innovation through an elevated service proposition that includes specialist personalised services not seen before in this market," said Keith.
"Global retail leadership is now coming from China, and the China customer is at the forefront of fashion. We set out to create the ultimate luxury fashion and lifestyle destination – the largest selection of luxury brands in an innovative, highly visual space, offering world-class service at a scale never before seen in Shanghai," he concluded.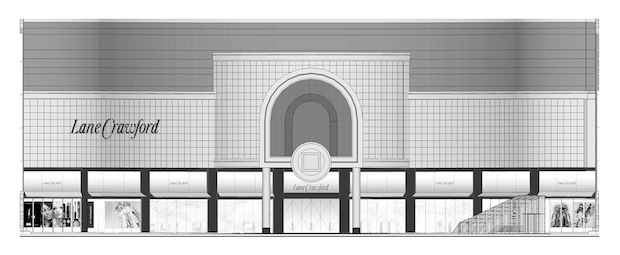 (Above a rendering of Lane Crawford's Shanghai flagship store)