Lalamove makes 'pawfect' move to transform pet industry with 360 marketing strategy
This post is sponsored by Lalamove.
As the global pet industry continues to prosper, on-demand delivery platform Lalamove has taken active steps to fill gaps and address new demands in the market through a comprehensive 360 marketing strategy.
Pet ownership is on the rise, with owners increasingly investing in their furry companions. According to Grand View Research, the global pet services market is projected to grow at a compound annual growth rate of 9.21% from 2023 to 2030.
"Lalamove has been supporting different facets of pets' lives in its global markets, from Asia all the way to Latin America," said Kristie Cheung, head of marketing communications at Lalamove.
"We are contributing to the pet ecosystem in a 360-degree manner that not only provides convenience and efficiency, but also fosters a deeper connection between pets and their owners."
B2B: Transforming and streamlining pet product delivery for merchants worldwide
Pet merchants are constantly seeking affordable and convenient delivery options to meet the evolving needs of the market. Transporting pet products, including pet food, litter, and grooming supplies, can be cumbersome due to their weight and size. Additionally, pet owners' busy schedules often prevent them from physically visiting stores.
To address these challenges, Lalamove offers pet merchants a comprehensive solution with its "same day delivery" service in Hong Kong, Singapore, and other cities. Goods can be delivered across the city on the same day at a fixed and affordable rate, which enables the merchants to utilise both real-time and same-day delivery according to the customers' needs. This has effectively lowered merchants' time costs in managing the orders and the corresponding logistic costs.
In Brazil, Lalamove has played a crucial role in becoming the trusted delivery partner for the country's two largest players in the pet products segment. At the same time, many smaller pet suppliers that offer niche products also leverage Lalamove's logistics service to expand their geographic reach.
B2C: Bringing access and joy to city pet owners
In Hong Kong, where pets are not allowed on most public transportation, Lalamove allows pet owners to ride with their pets and it can be used to deliver owners' and pets' belongings all across the city. This service has garnered popularity with the support from hundreds of pet-loving influencers. In 2023 to-date, Lalamove has solved Hong Kong's pet parents' transport headaches over 40,000 times.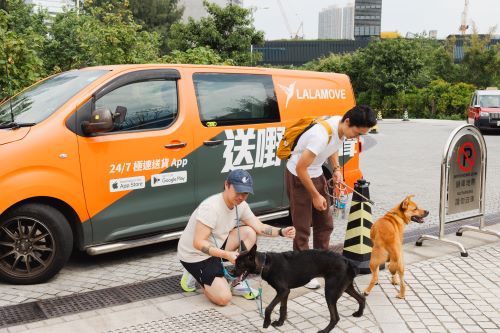 Cross-collaboration: Amplifying Lalamove's impact across the pet ecosystem
As the pet economy continues to flourish, new avenues for collaboration have emerged, including partnerships with the healthcare and insurance sectors. In Taipei, animal hospitals work with Lalamove for on-demand services for urgent deliveries during animal medical rescues and the swift transport of essential health supplies.
For example, when hospitals or veterinarians are short on suitable blood packs, they can be swiftly obtained and delivered from another location. Meanwhile, in Hong Kong, Lalamove has partnered with One Degree, a pet insurance company, to provide coupon-based discounts for pet owners using Lalamove services or visiting veterinary clinics.
The growing pet economy has also led to the popularisation of pet events and exhibitions. In Malaysia, Lalamove provided long-haul moving services for the Oh My Pet Expo, assisting exhibitors in moving heavy event equipment and large volumes of pet products between Kuala Lumpur and Johor Bahru. Exhibitors had the option to select between vehicle types and scheduling options, all at an affordable price to ensure their requirements were met.
In Hong Kong, Lalamove also supported pet carnival visitors organised by the MegaBox shopping mall, which made it easier and more affordable for visitors to travel and move purchases to and from the shopping mall.
Creating impact: Make a Pawfect Move
As part of Lalamove's CSR brand, "Deliver Care", our definition of supporting the global pet economy also means extending our support to animal welfare and pet rescue work.
Through Lalamove's most recent "Make a Pawfect Move" initiative, Lalamove Rewards Members can easily donate their LalaPoints to support partnered NGOs across Asia and Latin America, empowering pet lovers to make a positive global impact.
In Hong Kong, Lalamove also held a pet adoption event on 29 October with Home of Homeless Dogs at a popular pet-friendly seaside café, Hooman by the Sea, which brought together adorable pets and potential adopters.
While in Manila, the Lalamove team donated pet supplies and volunteered at the Pawssion Project shelter to contribute to the wellbeing of rescued pets. And all the way in Mexico City, the team donated and spent time cleaning the local pet shelter to provide a safer and more hygienic environment for the animals.
Follow us on our Telegram channel for the latest updates in the marketing and advertising scene.
Follow
Free newsletter
Get the daily lowdown on Asia's top marketing stories.
We break down the big and messy topics of the day so you're updated on the most important developments in Asia's marketing development – for free.
subscribe now

open in new window