Kraft Heinz has withdrawn its proposal for a US$143 billion merger with larger rival Unilever, the companies said on Sunday, only two days after publicly confirming its interest in acquiring Unilever.
Kraft had made a surprise offer for Unilever to build a global consumer goods behemoth that was flatly rejected on Friday by Unilever, the maker of Lipton tea and Dove soap.
Unilever quickly rejected Kraft Heinz's approach, saying it "fundamentally undervalued" the company.
The American food conglomerate withdrew its offer because it felt it was too difficult to negotiate a deal following the public disclosure of its bid so early after its approach to Unilever, Reuters quoted people familiar with the matter.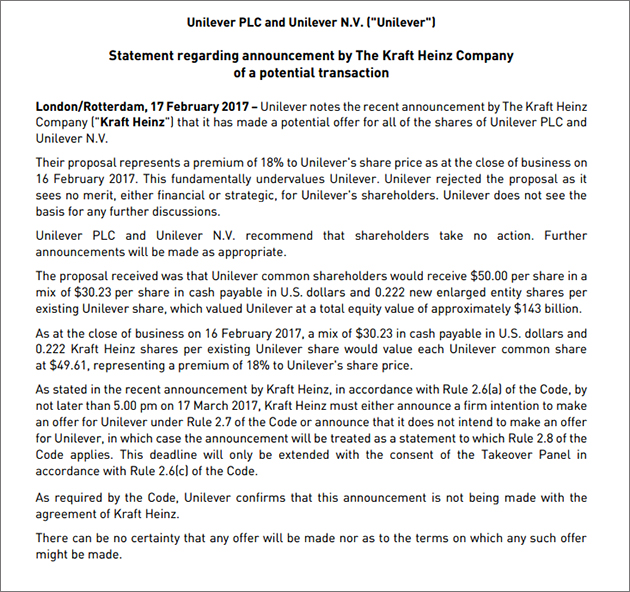 A combination would be the third-biggest takeover in history and the largest acquisition of a UK-based company, according to Reuters. The combined entity would have US$82 billion in sales.
Kraft had not expected to encounter the resistance it received from Unilever, one of the people said. Some key concerns raised during talks included potential UK government scrutiny, as well as differences between the companies' cultures and business models, the person added.
"Kraft Heinz's interest was made public at an extremely early stage," Kraft Heinz said in a statement. "Our intention was to proceed on a friendly basis, but it was made clear Unilever did not wish to pursue a transaction. It is best to step away early so both companies can focus on their own independent plans to generate value."
In their joint statement Sunday announcing that there would be no deal, the companies said that "Unilever and Kraft Heinz hold each other in high regard."
The Financial Times reported that British Prime Minister Theresa May had asked officials to examine the merger. Her team held talks with both companies on their plans for job growth, research and development, and operations in the UK.