KiThe Singapore Kindness Movement's (SKM) publicity stunt of having its kindness mascot quit in a tantrum has gone viral.
The 30 year old mascot of the Singapore Kindness Movement has been a familiar sight with locals, and while some have dismissed the mascot and the move as being fairly silly, the latest publicity gimmick of having the Singa Lion quit publicly in a resignation letter yesterday online (below) has gotten a lot of buzz.ndness mascot's tantrum goes viral.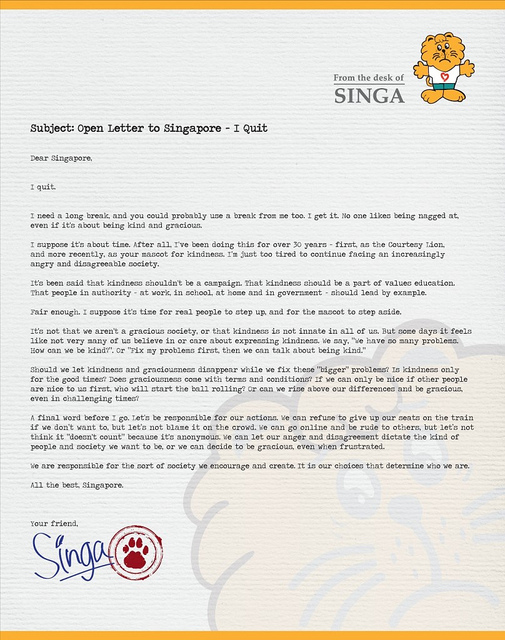 On the SKM's Facebook page, the post was shared 231 times this morning. On Twitter, while several users have pointed out it is obviously a marketing campaign, it has gained quite a bit of traction there as well.
The move has been in the public eye for days, securing attention in the local media such as The New Paper, The Straits Times, Stomp! xinMSN news, Today and more as well as on radio stations with local DJs talking about it. The news is still gaining traction online.
The letter has the kindness mascot "quitting" in frustration over having to face "an increasingly angry and disagreeable society."
While it's obviously gotten considerable attention, whether the campaign got its message across is anyone's guess.