KFC Philippines was quick to spot the opportunity to poke fun at Jollibee and its #ChickenSad problems last week but it seems that the brand may have "chickened" out.
Marketing reported last Friday about the brand's witty attempt to turn the negative publicity their rival has been getting to its advantage. Jollibee received a bit of flak from diners on social media about an alleged supply shortage, which led to the spread of the hashtag #ChickenSad, a funny takeoff from the brand's popular ChickenJoy meal.
KFC consoled disappointed patrons with a funny social media campaign saying that there is "No such thing as #ChickenSad in the house of #SoGood." But upon checking KFC Philippines' official Facebook and Twitter accounts, the posts have mysteriously disappeared.
Here is a snapshot of the original post on Twitter.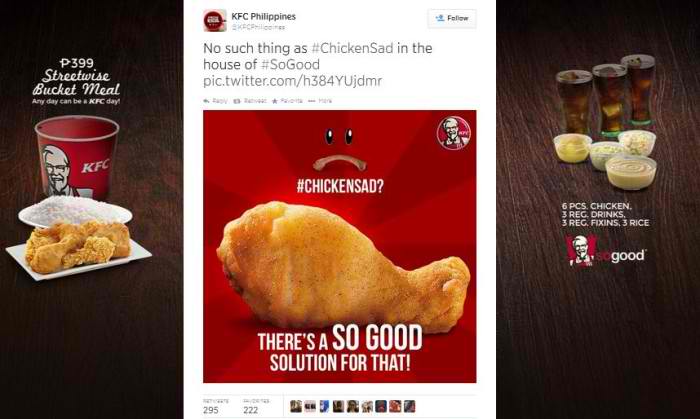 And here is the post today.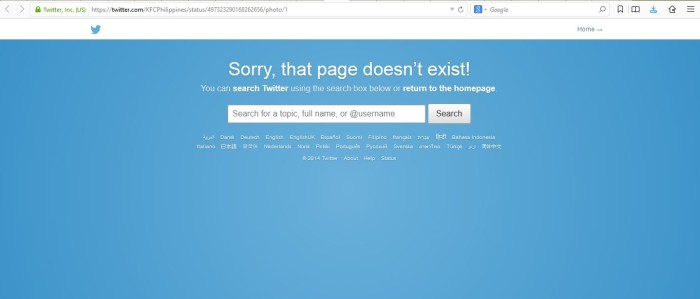 This is the embed post on our "LOOK KFC, Jollibee begins chicken derby" story dated 8 August, now also MIA after being shared by over 1,800 people on Facebook.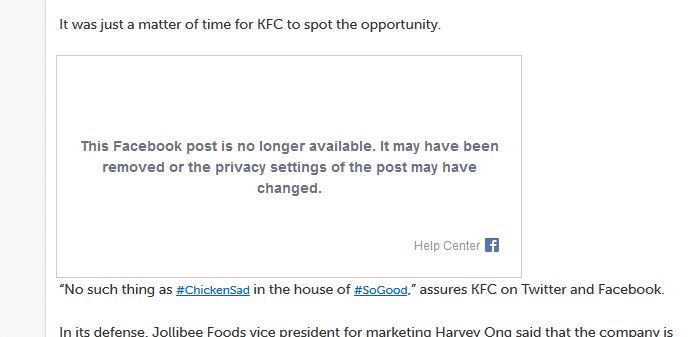 Discussions about the missing posts in the interwebs have yet to take off and both companies have not revealed anything about possible friction caused by the spoof.
Tit-for-tat responses have become fairly common in the ad industry and it often does not result to heated debates or lawsuits.
A recent example was MRM Manila and Kitkat Philippines last June, which made fun of Facebook's worst downtime in the last four years – an example of remarkable real-time marketing at work. The post can still be viewed to this day.
Did this chicken derby backfire on KFC Philippines? Your thoughts are very much welcome below.