People love their smartphones, we all know that; but consumers might rely on smartphones more than we thought.
67% of consumers have greater chance of converting on an optimised site for mobile devices, according to a study from Google. The study also finds that 52% of consumers are less likely to interact with a brand which is not optimised for mobile devices, 61% will leave for a competitor's site if they cannot find what they are looking for, 47% expect sites to load in less than second seconds, and will abandon the site if loading takes more than three seconds.
Furthermore, some Hong Kong industries, for instance dining and nightlife, food and groceries, health, and real estate industries, are surpassing 50% on the Google mSearch.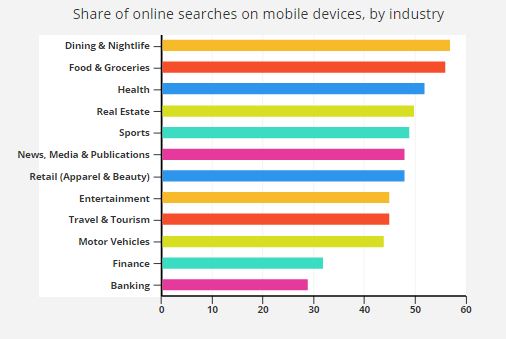 On Google's Think Mobile event last week, Leonie Valentine, managing director of sales and operations at Google Hong Kong, said Hong Kong is undoubtedly very well served from a technology perspective both from network and availability of smartphones, yet the city needs to be smarter.
"There are no limitations in terms of the platform and infrastructure here," she told Marketing, "But the adoption of digital technologies are not there yet. Our consumers love apps but a lot of those aren't created in Hong Kong."
"I do think that some partners and businesses in Hong Kong are a little bit slow to digitise," she said. "We are still doing a lot of work here."
The slow transformation is partly to do with the conservative nature of how marketers think about traditional marketing, Valentine suggested, but she had also witnessed marketers who are struggling with the use of data to understand their customers and draw insights.
Create platform-ready campaigns
Another struggle from the brands, she said, is to create something that is platform-ready. "Look at the most successful campaigns on different types of platform, they are actually produced for that platform. If you are talking about mobile advertising, then you actually need to think about creating ads for that platform that are going to engage a consumer in that moment," Valentine explained.
According to Valentine and other executives on the event, there are some other ways to get your brand on search on the head start.
Get a shot at your competitor's customers
Consumers today are no longer brand committed - 1 in 3 smartphone users have purchased from a company or brand other than the one they were seeking because of information provided in the moment they needed it. One quick way is to show up in mobile search ad results, which can increase unaided brand awareness by 46%.
Use responsive ads
Drive awareness beyond the click - native ads are viewed 53% more often than banner ads.
Furthermore, marketers are advised to push greater creative input for the advertisers, and upload images, headlines and descriptions that meet the brand guideline. Do more conversions at a competitive cost per acquisition, as advertisers have typically seen a 15% increase in reach compared to standard text ads.