Asian men are spending more on grooming products than females – and it is not just for the sake of impressing the ladies.
The biggest driver for grooming among 84% of men in a latest Kantar Worldpanel study is that "it makes them feel better about themselves."
Only 64% of the respondents admit to using grooming products because of what the opposite sex will think, while close to 62% disagree that grooming is only "a women's thing."
This contributed to the 9% growth of the men's grooming market in eight Asian countries, leaving behind the female beauty sector which posted a 6% growth. The countries included in the Men Revolution 2013 report are China, Korea, Vietnam, Taiwan, Indonesia, Malaysia, Thailand and the Philippines.
Philippine insights
Filipino men are notably mindful of how they look and smell because they believe it's important in their jobs, with 85% of Metro Manila respondents agreeing with this point. In comparison, the Asian average is at 72%.
To further how unique the local market is, Filipino men have bar soaps, shampoo, blades and razors, deodorants and colognes as their grooming essentials. For most of Asian men, the basics include shampoo, bar soap, blades/razors, skincare products and shower gel.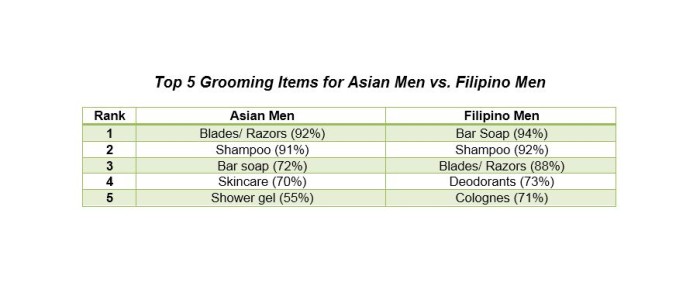 Of the eight markets included in the survey, the Philippines registered the highest penetration of bar soap, deodorant and fragrance/colognes.
Luz Barra, Kantar Worldpanel commercial director, shares that anti-acne products and oral hygiene is an opportunity brands can seize. Almost all (93%) of Asian men complain about at least one thing regarding their appearance. For Filipino men, 38% complain about bad breath and 46% suffer from acne.
"What we found in the Men Revolution study is that anti-acne products are not yet part of Filipino men's grooming essentials. This is a big opportunity for brands to take advantage of in the local market," explains Barra.
The challenge now for local brands is to break the continued preference of Asian consumers for imported brands. The study notes that over 50% of Asian men consider imported brands for grooming products as high-quality.
Looking at shopping behavior, about 77% say that they are attentive to practical messaging in stores but 60% of them admit that they are in a rush when they do their shopping. In addition, five out of 10 Asian men expect results and are willing to wait and see if the products work.
PHOTO: Dingdong Dantes On Men's Health Special Issue On Grooming