Japanese advertising agency Daiko Advertising has partnered up with local independent agency The Adplanet Group for a joint venture named Adplanet Daiko.
The joint venture was launched on 20 April 2015.
The joint venture between the two agencies is aimed at incorporating a regional agency network in the ASEAN market.
The JV has had a logo created for the tie up, inspired by the symbol of the rising run in the national flag of Japan and Singapore's "little red dot". The logo is a merging of the two symbols, representing the union of Daiko Advertising and Adplanet Group. The image of a lit-up bulb is a nod to Daiko Advertising's tagline: "Ideas Win".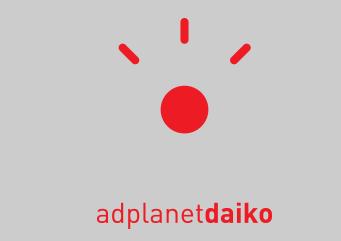 Adplanet Daiko will be based in Singapore as its headquarters for the ASEAN region. The agency sees Singapore as an important gateway to the ASEAN market.
This joint venture supports Daiko's aim of establishing its presence in the ASEAN region. The initiative was partly driven to cater to its clients in Japan who needed representation in the ASEAN market. The joint venture also aligns with the agency's globalization plan. Similarly, Adplanet group sees the partnership as an opportunity to establish a regional footprint.
The three pillars set up for Adplanet Daiko are: traditional and brand communications, digital and social media solutions, and activation.
Speaking at a press conference for the launch, Adrian Tan, CEO, Adplanet Group, said that the agency must expand regionally, citing it as an "economic crime" if it didn't leverage on Singapore's growth and stability. He added that the symbiotic relationship with Daiko Advertising was only successful after "a very careful and honest audit of our strengths and found them to be extremely complementary."
Hiroshi Ochiai, president CEO, Daiko Advertising, said, "Adplanet Daiko will be the agency that will be relevant to the new normal. This agency is more than just an advertising and branding agency for our clients but rather, as our clients' most trusted and strategic marketing partner."