Korean Model and celebrity DJ Jinri Park is fuming over local men's magazine Uno for allegedly using her photos without permission.
Park turned to Twitter on Monday to vent her frustration to her fans, saying that she's not supporting Uno Magazine's September 2014 issue. The pictures in question appeared on the flip page of the issue, with Maggie Wilson on the cover.
They never told me or my manager about using my pictures on their cover this month.This is NOT RIGHT.Jinjas pls spread the word.IM FURIOUS

— Jinri Park (@jinri_88) September 1, 2014
At least try to explain to my manager @YourHighnessBEA or me on this issue @UNOmag This is very unprofessional. We need to communicate

— Jinri Park (@jinri_88) September 1, 2014
She and manager Bea Velasquez is demanding an explanation from the magazine, which has so far been snubbed based on their posts on Facebook.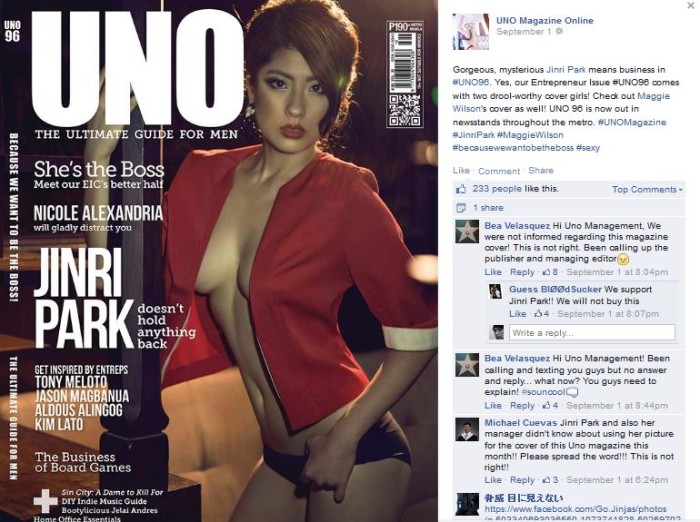 Uno has yet to release a statement about the issue while the celebrity's camp have not announced plans to take legal action to date. Denis Achilles del Callar is Uno Magazine's publisher while Karlo Samson is its managing editor.