With digital becoming a mainstay in many local companies, its unsurprising to find that the talent hunt for digital functions is ever competitive. However, a new report by QED Consulting has found digital marketing strategy to be the top most coveted skill set for digital, marketing and communications professionals.
The top five critical skill sets for a digital, marketing and communications professional include digital marketing strategy (92.7%), followed by social media marketing (85.4%), digital analytics and performance (84.2%), digital storytelling and content creation (76.8%) and brand management (74.4%).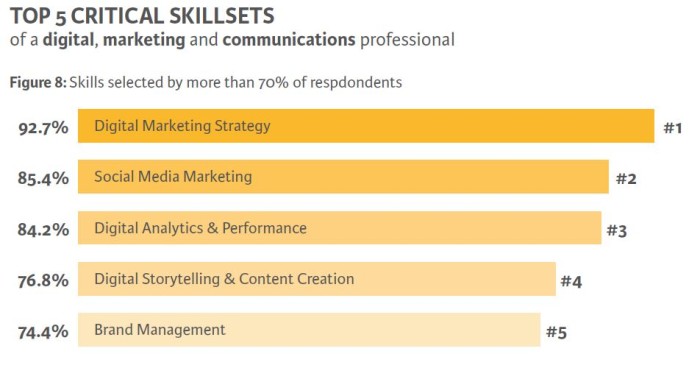 According to the study, this indicates that a combination of strategy and creativity are traits are highly sought after. This was also observed for both government and commercial organisations which prioritised these technical skills. However for the case of commercial organisations, skills in digital analytics and performance skills were favoured – likely due to a focus on transactional outcomes.
Government agencies preferred individuals with customer experience management skills due to their priority of public outreach and community engagement. This is to provide service and build trust and confidence among citizens.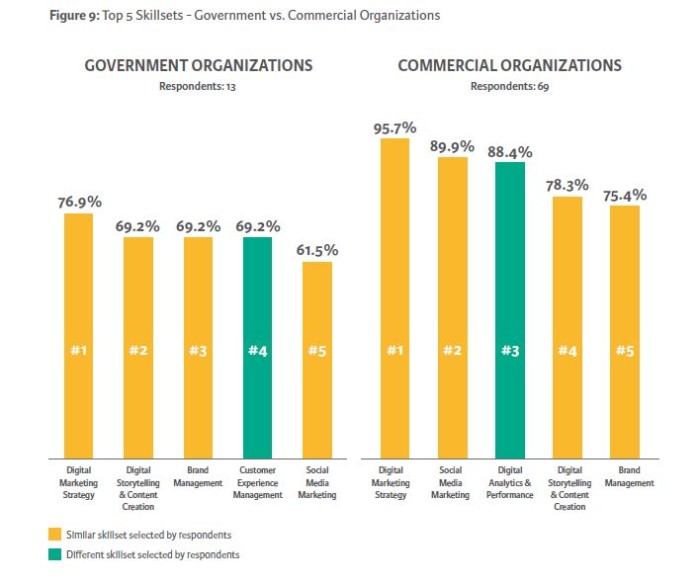 Meanwhile, the least required skill sets by digital, marketing and communications professionals include mobile marketing (47.6%), digital crisis management (45.1%), online reputation management (40.2%), online lead generation (36.6%), go-to marketing strategy (34.2%) and pricing strategy (22.0%).
According got the report; this result might due to be the lack of internal expertise and know-how by organisations in these areas – which may then be outsourced to agency partners when required.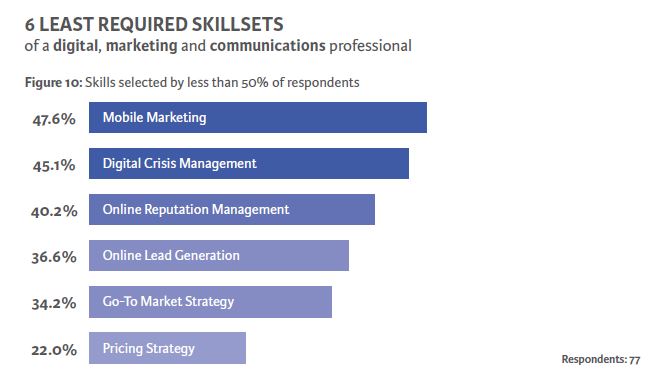 The study also found that most organisations in Singapore view training as an important part of professional development, setting annual training quotas on employees. However, 42% believe that the responsibility and initiative to learn and grow rests on the individual rather than the organisation.
In terms of time investments, employers are willing to allow employees two to five days away in a year for learning and development. Short courses with specific skills transfers are also preferred to academic-type programs which usually last months. In-house training is prioritised (87%) over other types of training such as public trainings (76%) and customised trainings (73%), to help reduce long run costs.
The Digital Marketing Talent Development Survey was conducted with organisational decision makers between March and April 2018, which encompasses 93 client-side respondents and enterprise-sized organisations with over 200 employees. These decision makers came from marketing and communications backgrounds, as well as management and human resources/learning and development.
Respondents were from a mix of commercial entities, non-profit organisations and government agencies, with a majority representing six key industries such as education, government, consumer goods, hospitality and travel, real estate and media and entertainment, based in Singapore.
The objective of the study was to understand the career progression tracks and role of a digital marketer or communicator and also the required technical skill sets for a digital marketer or communicator in the workplace. It also looked to understand the training investments that organisations were willing to make for their digital marketing and communications staff.
(Photo courtesy: 123rf)