Coming off a 10-year average annual GDP growth of 4.8% and with promising fundamentals in terms of macroeconomic stability, market size and demographic profile, Indonesia is embracing a wave of optimism and investment. According to recruitment agency Michael Page's latest Salary Benchmark 2020 report, this will potentially propel the country to new heights in the decade to come.
New investments such as the recent mass rapid transit (MRT) launch and the rise in hiring demand from trending sectors such as mobile and gaming are ongoing in Indonesia. Furthermore, the country recently welcomed yet another unicorn business which becomes the fifth company in the Republic. While these are positive in terms of the hiring market, the report revealed that the country is yet short of match-ready talent in the top roles.
In the consumer and retail segment in Indonesia, employers are eyeing efficiencies, eCommerce and digital transformation as three main focal points. With Chinese investments pouring in, particularly in the electronics and consumer goods sectors, opportunities are opening up. Surprisingly, the beauty industry is continuing to ascend, burgeoned by social media and presence of global brands. In the consumer and retail sector, employers are keen on hiring for marketing, finance, sales and technology functions. Some of the key trending skills are product campaigns and launches, management of large businesses, digital and eCommerce. Employees on the other hand expect a 25% average salary increase when switching jobs within similar industries.
Roles in demand include:
• Brand manager
• Channel/Business development manager
• Digital manager
• Key account manager
• Commercial finance manager
Data and cybersecurity experts in demand
As the number of digitally savvy consumers grow, companies see the need to bolster tech experts. In the digital and tech space, the three hiring trends include more opportunities in the digital payment space, as well as agritech, logistics, education and healthcare which are considered high-growth sectors for candidates. Demand is high for data scientists, cybersecurity experts, engineers and product managers.
Employers in the digital and tech sectors are most keen in hiring candidates for engineering, sales and marketing functions. Some of the trending skills include data analytics, Artificial Intelligence (AI) and machine learning, digitalisation. Employees expect a 15-50% average salary increase when switching jobs within similar industries.
Roles in demand:
• Head of engineering
• Head of digital
• Data analyst
• Digital marketing manager
• Product manager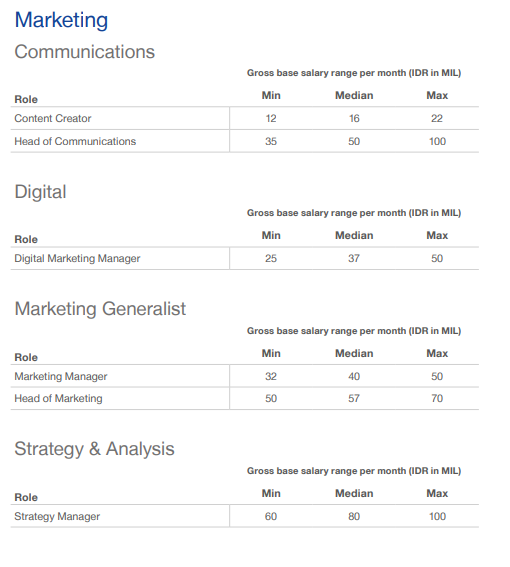 Market sentiments
The report also measured the optimism among job applicants in Indonesia about the job market. 58% said they are inclined to work overseas in 2020, while 73% believe that they will take less than three months to find a new job which was the same figure as in 2019. About 61% foresee themselves having better career progression in 2020, as opposed to 75% in 2019. Overall, 73% are positive about the job market, which dipped from 83% in 2019.
According to Michael Page, 97% of the Indonesian workforce feel they have autonomy at work and that their personal contribution is impactful to the company. However, about 40% of respondents feel they have no freedom to take a break during work hours, and one in three claim they have no flexibility to work outside their office.
Employees in Indonesia consider having a clear direction and vision as the most important objective of a leadership team, while majority cite profit and revenue as least important for leadership team. Employees are also seeking a harmonious workplace, as 86% of professionals in Indonesia view traits collaborative, problem solving and empathetic, key in a work environment.
In addition, employees are willing to pack up and leave if there is a better opportunity somewhere else, unhealthy work culture or if they notice a misaligned leadership style.
(Photo courtesy: 123RF)