This year, hiring was optimistic throughout 2017, with a high demand for senior marketing and sales professionals – along with professionals and candidates with e-commerce experience. This was according to a recent report by Robert Walters.
Professionals changing jobs looked towards salary increments of 20% to 35% in 2017, which is expected to continue in 2018. The report added that there was an increase in demand for skills in CRM, digital marketing, brand management, social media and digital strategy. This came as more traditional companies moved online.
Looking toward 2018, sustained hiring activity is expected for branding, communications, digital and front-line positions in sales, across all industries. New companies entering Indonesia will continue to look for quality candidates as country managers. Meanwhile, FMCG and technology businesses will focus on hiring marketing professionals, while some FMCG and industrial companies will look to fill sales positions.
Here's how much you should be getting paid: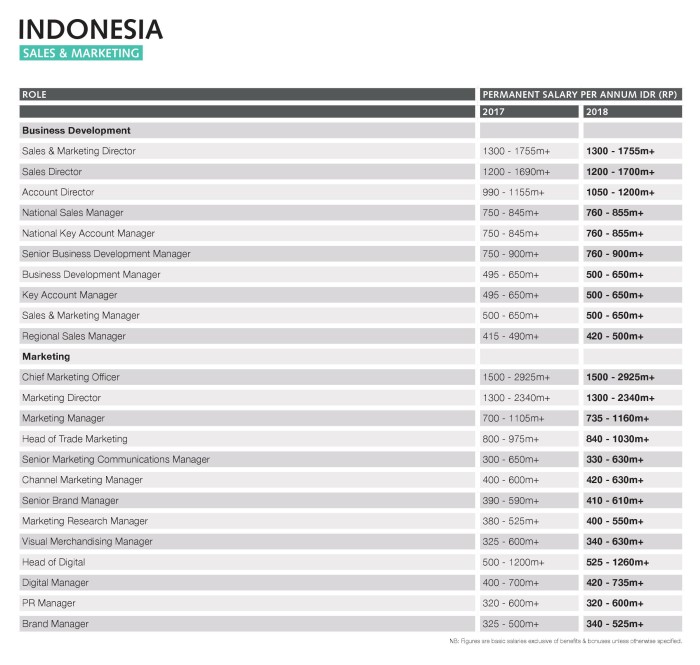 According to Robert Walters, more companies will also struggle in the year ahead to find talent who are young, driven and bilingual, along with international experience and the ability to think outside the box. The report added that candidates with these qualities are highly sought after and, as a result, tend to be more selective about the companies they would consider working for.
As such, hiring managers are advised to widen their access to available talent by recruiting junior professionals and giving them opportunities to develop their skills. This is instead of focusing solely on highly qualified candidates. Overseas candidates will also be a good source of new talent in the market.
The report also observed strong hiring activity in the IT industry throughout the year. This was due to the growing number of e-commerce businesses and fintech start-ups. Thus, software engineers, developers and product managers were in high demand.
On average good candidates can expect increases of 20% to 40% when moving to a new company. Robert Walters added that salary increments for IT professionals changing jobs will continue to be linked to skills and value rather than experience.
Moving forward, companies will be looking for creative technology candidates who can create frameworks from scratch. Data scientists will also be in demand, especially those with the ability to manipulate big data and communicate effectively with stakeholders.
With Indonesia's strict immigration laws and a limited talent pool, demand, competition and salaries will continue to rise in 2018. Companies that can offer flexible working hours and creative working environments will be well-positioned to attract the best talent.