Marketing is debuting a new column on independent agencies, The Independents.
It's not easy being an independent, but the local ad industry has certainly birthed some passionate companies worth noting.
With that, we're throwing the spotlight on these smaller shops, covering the struggles of independence, what drives them, and if the plan is to stay independent.
In this edition, we speak to ex-Havas chief creative officer Victor Ng, who has recently started his own agency. Ng is a familiar face in the local creative scene, having held senior creative roles in Havas Worldwide, DDB Shanghai, Leo Burnett and more.
He tells Marketing about the challenges of starting small and transiting from a creative leader to a business leader.
What made you decide to start your own agency?

The past seven years of being the creative lead of multinational network agencies have been fruitful. But the notion of forging an agency's identity and success from scratch sounded strangely stimulating, and eventually became more creatively challenging than cracking a brief.
You've been a creative all your life. How is the transition to becoming the business lead now?
Pretty exciting actually. Have never really thought of myself as a business lead, but perhaps more of a creative lead with a business perspective.
In my experience, most clients enjoy working with the creatives who actually do the work on their brands. I've always liked the idea of being versatile, and have been client-facing since day one of my creative career -- mostly thanks to ex-bosses who trusted me enough, and clients who treated me like an real agency executive who just happen to use creativity to help with their marketing challenges.
Plus, dealing with the client directly puts business accountability on top of unadulterated creativity. It's a lot harder to look a poker-faced client in the eye across a boardroom table and say, "I'm not so sure how this idea elevates brand affinity in your target audience, but trust me, this is going to clean up the award shows."
Someone once told me, "Master the business of creativity, not just the creativity of the business." I'm lucky to surround myself with people who are wiser than me.
You've also been in many larger agencies and surely you've come away with valuable business lessons. What are your thoughts on how you will run your own agency differently?
The best thing about running your own agency is being able to do what you think is the right thing, even if it challenges conventional wisdom. Maybe there's some wisdom in being unconventional.
The best agencies seem to have it all – they win a disproportionate amount of business, awards and talent. The rest of the industry wonder how they get it done year in, year out, but they just do.
Community is a lot simpler in that regard. We just want to do good work, make a living, and have fun – almost always in that order. You'd be surprised to know how hard it is to do all three.
What are your thoughts on adland's obsession with awards?
Are agencies obsessed about awards? Not all, I'm sure. Everyone has (mostly divergent) views on the awards-chase and I don't think mine are any more right than anyone else's.
Awards that reward genuinely relevant creativity are great for the industry. But should we make awards the only advertisement of our abilities? Worth a thought.
Would you be open to a potential buyout in the future?
Ask me again in a few years.
Could you ever work for someone else again?
Ask me again in a few years.
What is one piece of advice you'd give anyone wanting to make it out on their own?
Five years ago, the local creative icon Lim Sau Hoong told me, "Before you strike it out on your own, figure out what you are really, really good at." I've always believed, it's better to fail at doing the right thing, than to succeed at doing the wrong thing.
It's said that creatives can't market themselves. Do you agree?
Not really. Richard Branson could've easily been an agency creative with his imaginative flair, and we know how brilliant he is at marketing the Branson brand. And what about the great Steve Jobs? The ability to market something quite possibly sits somewhere between the left and right brain.
We see creative entrepreneurs redefining business industries like tech, mobile and music. It's exciting just seeing what they've done and wondering what they'll do next.
Who did you pick to make up your first team?
Tim Duncan, Kawhi Leonard, LaMarcus Aldridge, Tony Parker and a certain LeBron James. You are talking about the All-NBA first team, right?
It's not easy running a small agency. What were the hardest moments and how did you deal with them?
The good thing is, I don't see myself running a small agency, but more like a coach running a sports team. Communicating the game plan, signing the right players, getting them to play together, and actually winning some games.
None of that is easy, but all of that is kind of fun to me. The hardest moment was to decide where to put up the boxing heavy bag in our office. We took a vote.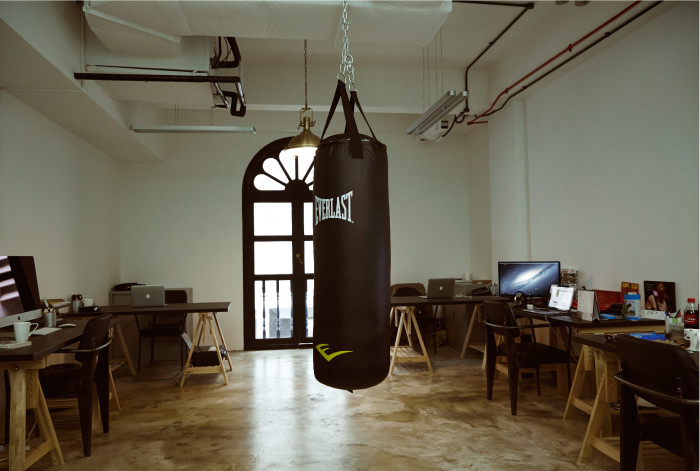 Benefits and drawbacks of being an independent agency
Benefits and drawbacks are really how you perceive them. Is being small a drawback or benefit? What about big-sounding job titles? Or timesheets? The real benefit in being an independent agency? You can really swing for the fences, without worrying about breaking a window.

Proudest moment so far with your new agency?
Having talented and driven people leave their previous jobs to do something special together at Community. That, and the feeling of being licked on the hand by abandoned dogs in an animal shelter we were helping out with.
How hard is it to go up against a more well-known agency in a pitch and how do you deal with it?
Clients are increasingly aware that the size of the idea matters more than the size of an agency. Having big ideas helps level the playing field. To share a great sports quote, it's not about winning or losing, but how you competed in the game.