It's official. The "Lufsig" drama has gone to the next level after Ikea decided to abandon the awkward-sounding Chinese translation of "Lo Mo Sai" in favour of a more positive one.
In a statement from Ikea headquarters, the company stressed its political and religious independence and has "no wish to be involved in political or religious campaigns".
"Our soft toys are developed to have a great play value and good for children´s development. This year´s news in the soft toys range is inspired by the European fairy tale tradition and the wolf Lufsig is one of those new soft toys.
"We regret that the previous translation of the pronunciation of soft toy name; Lufsig, into Cantonese was unfortunate, this has now been corrected."
The statement went on to say the naming process was aimed at avoiding foul language.
"Our intention is that the product names should not reflect politics or religion.  The naming of our products is based on a structure where for instance textiles have female names, bathroom articles have names of Scandinavian lakes and the names of children's products are from animals, birds, descriptive words and insects."
Lufsig, the toy wolf being part of an Ikea charity initiative, stirred considerable attention in Hong Kong over the week for its profane translation phrase associated with female genitalia.
Chief executive Leung Chun-ying, who has been at the heart of this political scandal after a protestor threw Lufsig at a rally over the weekend, was pictured with the stuffed toy on his blog, but parody images have already started to appear on Facebook.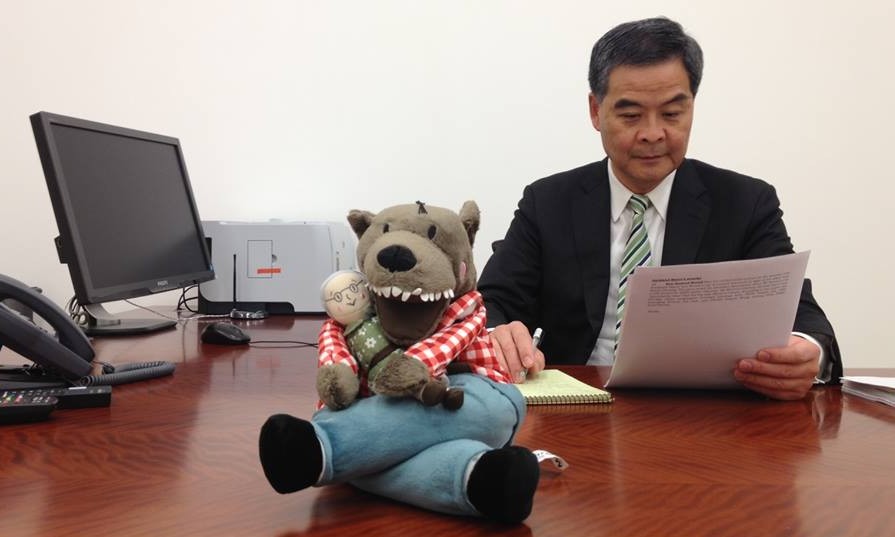 Photo courtesy of WFC Daily Facebook page: https://www.facebook.com/wfcdaily