Furniture retailer IKEA China has apologised and retracted a television commercial which is allegedly prejudiced toward single people and caused an outrage online.
The 30-second ad, with the tagline, "celebrate every day in an easy way," appeared on China's social media Sina Weibo, and has a fierce woman telling her daughter over dinner, "Don't call me 'mom' anymore if you cannot bring a boyfriend home."
But the atmosphere is soon all aglow when the doorbell rings and a young man is standing there with flowers and the daughter coyly introducing him as her boyfriend. Then all of a sudden, IKEA furniture is popping up all over the living room and the frozen dinner soon turns into a warm party to welcome the boyfriend.
An outcry followed on China's social media, where netizens were calling it "utterly inappropriate" and "pointing a finger at the single life" and demanding that it be taken off.
The controversial ad hashtag got more than 21 million hits on Sina Weibo. IKEA China spokeswoman, Xu Lide, told the Global Times that the issue had been reported to IKEA's global office as a lesson.
In a statement posted on its official Weibo account, IKEA said it understood concern over the advert and apologised "for giving the wrong perception".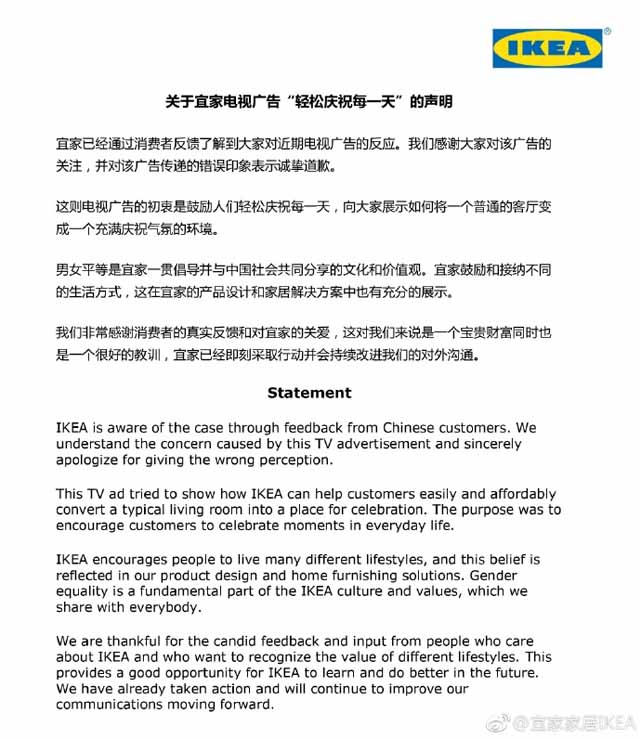 "This TV ad tried to show how IKEA can help customers easily and affordably convert a typical living room into a place for celebration. The purpose was to help customers to celebrate moments in everyday life.
IKEA is not the first foreign company to get into trouble for an advertisement in China. In July, an ad by German carmaker Audi that likened women to used cars also sparked outrage, with some people saying they would boycott the company.