One blue leather tote from French luxury brand Balenciaga has become the talk of the town this week, and the reason - the HKD$17,500 leather bag shares a number of striking similarities with Ikeas HKD$5 iconic recyclable plastic tote bag.
From the bright blue material to the double strap feature and its size, the resemblance is pretty obvious.
[gallery link="file" columns="2" ids="173375,173362"]
And netizens just can't help mocking the brand by comparing the two.
On the other hand, IKEA is taking it in good humour, with a spokeperson saying, "We are deeply flattered that the Balenciaga tote bag resembles the Ikea iconic sustainable blue bag for 99 cents. Nothing beats the versatility of a great big blue bag."
The brand is also quick to join in the discussion, publishing a Facebook post last thursday to introduce several ways to use the brand's "beloved $5 blue bag".
"Sturdy, classy, and now a fashion baby. We love FRAKTA blue bags for so many reasons, now we got you more ideas to use and reuse our blue bags," writes IKEA Hong Kong.
Another post from IKEA Malaysia writes, "Get the big blue bag that started it all at a price that's 4000 times more affordable."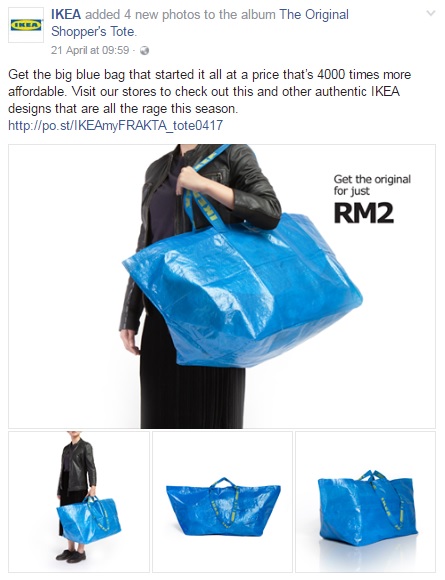 The quick response has won much applause, and the post has garnered 3.7k likes, 1240+ shares and 230+ comments so far.
"Whoever in ikea responsible with all these communication stuffs, you guys are the best ! Always find humor in something. Your employees must be proud to be a part of you," said one of the comments.
Balenciaga has not responded to the comparison, but this isn't the only item of the French brand to resemble other items. For instance, its HKD$19,880 cult puffer jacket has reminded many of a life jacket.