"Sometimes... It's Good Not to Be Home". That's what Hyatt Regency said.
Hyatt Regency's new multi-million dollar global campaign, "It's Good Not to Be Home" highlights the joys of traveling -- and celebrates the goofy things people do while they're away.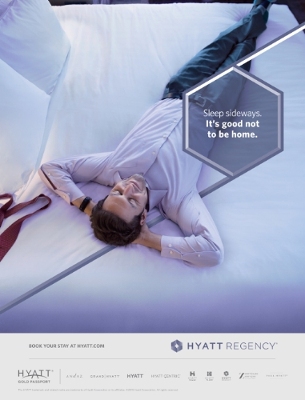 The campaign, the largest in Hyatt Regency's almost 50-year history, began with the insight that people enjoy the freedom of traveling, breaking from routine, making new connections and experiencing new things.
Sandra Cordova Micek, senior vice president global brands of Hyatt. "This campaign lets travelers know that we not only understand, we agree. That's why we are celebrating the simple human truths about travel that sometimes being away from home can actually be good."
It will launch this week in the U.S. and later in the month in the U.K. and India. China and Japan will get a November launch.
The Hyatt Regency brand worked with advertising agency Pereira & O'Dell on the global marketing campaign, which is aimed at both consumers and meeting planners.
The marketing campaign includes TV, social, digital, out of home and print media, a surprise and delight program, in-hotel activations and conference take-overs that will continue to roll out through October and November.