To promote its new youth-focused food concept Maxim's MX, Maxim's Group teamed up with digital agency Forrest lab to launch a viral video called "Seven types of girls that men want to meet" (男生最想遇到的七種女生), putting its signature "Baked Pork Chop with Fried Rice" at the forefront of its marketing efforts.
The video, published solely on the online platform BOMBA without any media investment, shot to top of YouTube's video charts in Hong Kong with over 300,000 views in just three days.
The story centers around four men gathered around a Maxim table playing classic poker "七級豬", with a five-minute video presenting seven selling points of the signature pork dish.
"We want to point out that fast food is no longer just a place for grab-and-go choices, but also a place where people can have gatherings and really enjoy quality food," Linda Chan, head of marketing at Maxim's QSR, told Marketing.
Since the beginning of the year, the group has embarked on a refreshed marketing approach to target younger consumers, which has seen five new stores launched under the a brand concept Maxim's Mx (美心MX).
Chan said the focus on social media and video has played a large part in its transformation.
"There's a lot of fun in the video. The subject matter – types of females men are attracted to – aims to resonate with young audiences. Entertaining content is crucial to keep audiences' attentions as they can lose interest very easily and won't give you a second chance," she said.
The campaign also extends to print, which highlights a mouth-watering picture of the iconic baked pork chop dish.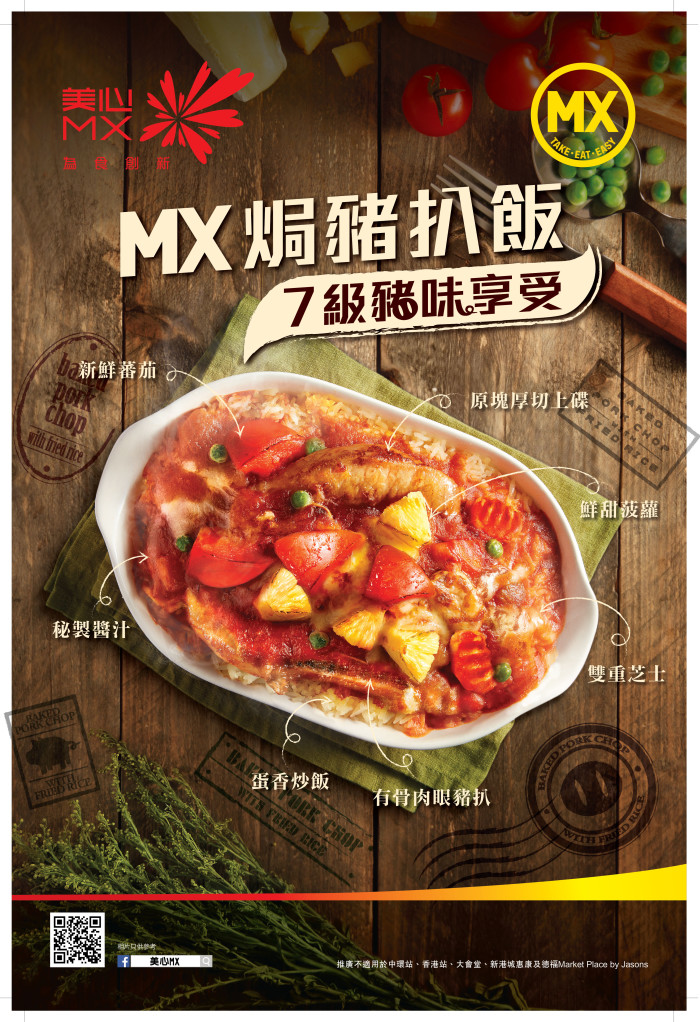 Associating the brand with a singular item is a bold move, specially the baked pork item happens to be one of its competitor Café de Coral signatures as well.
Chan admitted the dish was common among fast-food chains. "We just pick an item that is most accepted in the market."
Credit
Agency: Forrest Lab
Production: Firewood Studio
Video director: Firewood Studio
Media platform: BOMBA